SIA Engineering (SIAEC) widened its second-quarter operating loss despite an increase in revenue, as higher operating costs drove up expenses.
The MRO unit of Singapore Airlines reported an operating loss of S$6.8 million ($4.8 million) for the three months to 30 September, compared to the S$3 million loss in the year-ago period.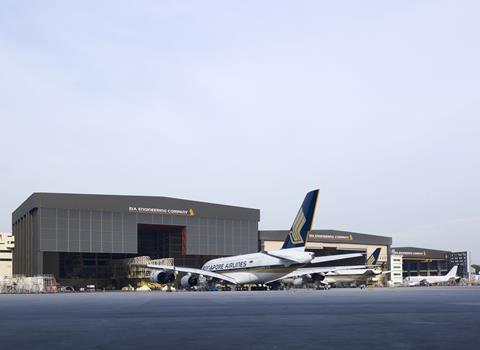 Revenue for the quarter jumped 38% year on year to nearly S$191 million, but was outpaced by a 39% rise in costs to S$198 million.
It attributes the spike in expenses to a reduction in government wage support, as well as "manpower costs and material costs rising in tandem with higher business activities".
Still, SIAEC reported a significant increase in its quarterly net profit, at nearly 88% year on year to S$19.7 million.
For the six months to 30 September, the company was S$10.8 million in the red at the operating level, widening the S$6.7 million loss a year ago.
Revenue grew 37.5% to S$362 million, but was again outpaced by a 38% year on year rise in expenses to S$373 million. SIAEC saw a 30% rise in net profit for the half-year, at S$32.5 million.
It notes that the reopening of borders and easing of travel restrictions has led to a strong rebound in its line maintenance business, which handled twice the number of flights in the half-year compared to the year-ago period.
"The increase in flight activities has led to an increase in demand for MRO services as operators look to return grounded aircraft back to service. Work volume at engine and component shops is also higher, with healthy improvement in inductions. Inventory technical management services supported a larger fleet size due to a new contract secured and fleet growth of customer airlines," says SIAEC.
It warns that while recovery gets underway, "the outlook is still uncertain" amid a slowing global economy and looming geopolitical tensions.
"In addition, high inflation, wage pressure and cessation of wage support will pose challenges. [SIAEC] will maintain vigilance and nimbleness in managing our costs," the company adds.