Singapore is reviewing the operational and commercial viability of using and producing sustainable aviation fuels (SAF).
A study conducted by the Singapore government and industry players presented options to integrate SAF with conventional jet fuel at Changi Airport, through the use of existing jet fuel facilities or terminals within existing supply chains, transport minister S Iswaran said in parliament on 3 August.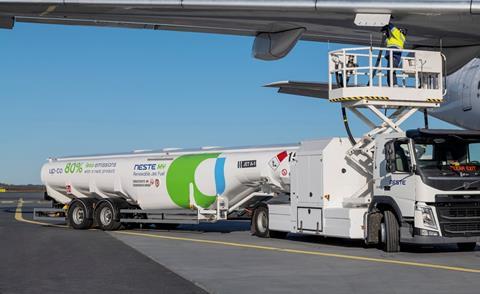 "In other words, where's the most efficient way to integrate this within the supply chain for [conventional] jet fuel."
Iswaran says the report identified viable feedstock technology combinations for SAF production in Singapore, based on feedstock availability in the region, cost, as well as lifecycle assessments.
"The report also suggested various options to facilitate uptake and production of these fuels in Singapore. Our agencies are reviewing the findings."
Member of parliament Leon Perera asked if Singapore was looking into the possibility of becoming a production or export hub for SAF, to which Iswaran says the country's broader petrochemicals ecosystem already includes players like Finnish oil company Neste, which focuses on biofuels production.
Iswaran said in his response: "That's an important part of our development going forward, because we have always proactively wanted to anchor some of these more sustainable options as part of the broader fuel mix in Singapore."
Neste's Singapore refinery is currently undergoing an expansion to double production capacity of renewable products. Along with plans to expand capacity of its Rotterdam plant, Neste expects to produce across facilities 1.5 million tonnes of SAF per annum by the end of 2023, it said in an April statement.
Within Asia-Pacific, Neste supplies SAF to Japan's ANA Group, which from July began using the fuel on Tokyo flights departing from Haneda and Narita. The parties signed an SAF procurement agreement in 2020.
According to Iswaran, SAF can reduce carbon emissions by up to 80%, compared to conventional jet fuel and on a lifecycle basis, but are two to five times more expensive. Singapore is studying SAF production for its own needs and possibly for export, he says, but highlights that supply is still constrained.
"In the study, one of the things we need to look at [is] how we can not just make [SAF] available in sufficient quantities, which in itself is a challenge, but also do so in a manner that is cost-competitive."
If Singapore goes forward with SAF developments, options would be available not only to locally based airlines but also carriers that operate to Singapore, the transport minister says.
"Long before we talk about physically exporting them to other locations, there are, A, supply-chain developments already taking place in Singapore; B, our focus is on cost viability and adequate supply; C, that once we're able to work on this and implement this, then it will be available to aviation players in Singapore, based out of Singapore, using Changi as a hub, and potentially also for the region."
The Port of Singapore is one of three major trading hubs for refined petroleum products, along with the European ports of Amsterdam, Rotterdam, and Antwerp, known collectively as ARA, as well as Fujairah in the United Arab Emirates, Middle East.
Across product types, Singapore's stockpiles were nearly 50 million barrels in May, ARA's was almost 47 million barrels, and Fujairah's, 23 million barrels, according to OPEC's latest Monthly Oil Market Report, published in July.