Japanese urban air mobility firm SkyDrive has selected Thales to provide flight control systems for its eponymous electric take-off and landing (eVTOL) aircraft.
SkyDrive will equip its three-seater eVTOLs with Thales' FlytRise flight control system, it states, following a signing ceremony during the Paris air show.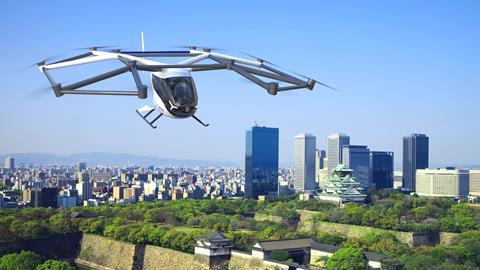 "[The] flight control system is one of the key elements of eVTOL aircraft. Calculating and adjusting the position of the aircraft's control surfaces and managing engine thrust, the fly-by-wire system is a critical element of flight safety," says SkyDrive.
The announcement comes as the Japanese company unveiled a target to have the aircraft certificated in Japan by 2026, with US FAA certification to follow soon after.
SkyDrive also aims to clinch its airworthiness certificate by 2025, in time for the Osaka Expo held in the same year, where is expects to operate demonstration flights.
The company is among a growing list of advanced air mobility companies hoping to capture a slice of the Japanese market. Already three other companies – Volocopter, Vertical Aerospace and Joby Aviation – have applied with the JCAB for type certification of their eVTOLs.