Social unrest, political upheaval and economic uncertainty continue to drag on South America's airlines, even though the continent is considered one of the most underserved regions in the world in terms of air travel.
Argentina, Brazil and Chile, the continent's three major economic drivers, face a diverse set of challenges in bringing air connectivity to far-flung regions. All three are increasing the number of travellers who consider commercial aviation a comfortable, safe and affordable means of transportation, and industry observers are cautiously optimistic that the continent could still experience an aviation revolution in the coming years.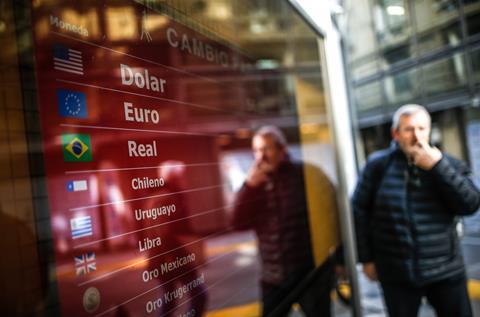 But Chile, long touted as the "tiger of Latin America", with the fastest-growing economy on the continent, has been dealing with social unrest since October. While the country has been able to significantly reduce overall poverty in the past decade, income inequality has skyrocketed, leading to an outburst of anger and violent protests in Santiago.
"Chile was the safest and quietest country in the region but it has exploded," says Eliseo Llamazares, head of the South American aviation and tourism practice at KPMG. "This [social unrest] affects the customers and the companies."
LATAM Airlines was forced to cancel hundreds of flights in late October after the Chilean government declared a state of emergency following widespread looting and rioting.
Nevertheless, Chile took the top spot in an aviation competitiveness index published by Latin American industry association ALTA and technology solutions company Amadeus. It scored the highest of eight surveyed countries in the categories of technology, taxes and fees and propensity to travel – important ingredients for a successful aviation sector.
Neighbouring Argentina experienced a political earthquake late in the year, the effects of which industry observers are watching closely. At the end of October, voters elected a new leftist protectionist government whose policies could threaten the market reforms that have had led to a travel boom in the past two years.
Former president Mauricio Macri, who was voted out of office, had eliminated many of the regulatory shackles under which commercial aviation in the country had suffered for years, allowing low-cost carriers Flybondi, JetSmart and Norwegian Air Argentina to set up shop. State-controlled flag carrier Aerolineas Argentina was forced to improve its performance, reduce costs and raise capacity.
"This exercise was very successful in Argentina and it would be very difficult for the new government to change the rules and market conditions again," Llamazares says. "Due to the fluctuation of the currency, people can't really afford to travel abroad so they travel within Argentina and this has helped the industry. So it will be hard for the new government to fight this trend."
Since the beginning of 2019, the Argentinian peso has lost more than 60% of its value against the dollar, putting pressure on operators. While airlines earn all of their domestic revenue in pesos, more than half of their cost structure – for fuel, leases and maintenance expenses – is in dollars.
Brazil, Latin America's biggest market, has a different set of issues – poor airport infrastructure and high taxes among them – that have been weighing on potential growth.
The government's ongoing airport concession programme, which includes bringing in foreign investors, promises to offer better services, smoother processes and lower costs in the coming years. Currently, the airport infrastructure in secondary cities, away from the major centres, is woefully inadequate, Llamazares says, unlike in Europe or North America.
"First, they have to improve the infrastructure, which will increase efficiency, and only after that can they start thinking about the customer experience," he adds. "We have to be realistic. There are very basic needs that have to be solved in the short term."
Decreases in taxes are expected to spur growth and interest in travelling by air to distant destinations across the vast country. The government plans to scrap a passenger tax and more than half of Brazil's 27 states have begun reducing their fuel taxes, already leading to an increase in the number of operated flights.
"The economy is improving today thanks to the new government. Total taxes had been very high – in some cases they are higher than the fare itself – and the government has started to understand that if they reduce taxes, people start to travel more," Llamazares adds.