South Korea hopes to roll out air taxi services in capital Seoul in 2025, as it doubles down on efforts to commercialise urban air mobility (UAM), including developing an indigenous electric vertical take-off and landing (eVTOL) aircraft.
The announcement comes as the Ministry of Land, Infrastructure and Transport (MOLIT) completes a demonstration of UAM services at Seoul's Gimpo airport. It was part of efforts to test and validate UAM concept of operations in an airport environment.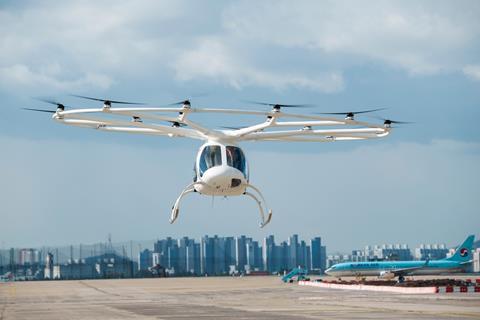 MOLIT says the airport environment will be where the first air taxi services will take place in 2025, to ferry passengers from the airport to downtown Seoul.
At the demonstration event, a crewed Volocopter 2X eVTOL aircraft took off and flew for about five minutes, covering a distance of around 3km.
Volocopter, in a separate statement, says the aircraft hit a maximum altitude of 50m and speed of 45kmh. It is Volocopter's second public demonstration of its eVTOL aircraft in Asia, after a 2019 maiden sortie in Singapore.
MOLIT says the demonstration on 11 November focuses on three aspects: aircraft development, eVTOL operations, as well as air traffic management.
The ministry states that work is also underway to develop an indigenous eVTOL aircraft for air taxi purposes. The five-seater aircraft is known as the OPPAV, and is being developed by the Korea Aerospace Research Institute.
MOLIT hopes to have a prototype ready for testing by 2022, with the project to be completed by 2023, with production to follow thereafter.
As for air traffic management, the ministry states that technologies currently in development were demonstrated during the test flight.
"The event also presented UAM traffic management technologies and concepts of operations developed by private-sector entities, which enable more precise traffic management and real-time information exchange between service providers," MOLIT adds.
South Korea has made UAM an area of focus in recent years, first putting out a policy blueprint for UAM operations in the country in 2020, followed by a technology roadmap this year.
Minister for Land, Infrastructure and Transport Noh Hyeong-ouk, who attended the demonstration, says: "As UAM is expected to become one of the common means of transportation that citizens use in daily life, it is absolutely imperative that we test and try out UAM services in various environments through demonstrations."