Spirit AeroSystems expects to lose money on its Airbus A220 work for three to five years, until Airbus ramps the twin-jet's production to at least 100 aircraft annually.
That prediction, made by Spirit executives on 23 February, aligns roughly with Airbus's profit timeline for the A220.
The European airframer has said it expects to lose money on A220s until mid-decade.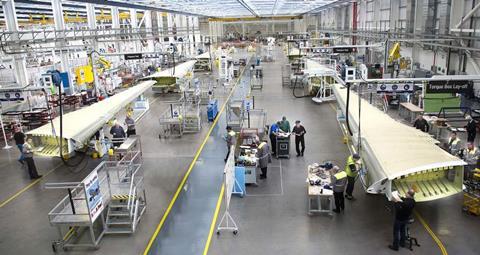 "We've set up the forward loss that goes out three to five years," Spirit chief executive Tom Gentile says on 23 February. After that, the company expects "the A220 to be profitable".
Wichita-based Spirit manufactures A220 engine pylons, and produces the jet's composite wings at a Belfast, Northern Ireland facility it acquired from Bombardier in October 2020.
Spirit's facilities are designed to produce structures for about 10 A220s monthly. But the Covid-19 pandemic halted planned production rate bumps, meaning Spirit is now making components for just four A220s monthly, says Spirit chief financial officer Mark Suchinski.
Spirit produced just 43 A220 "shipsets" in 2020, up slightly from 40 in 2019.
"Rates are still quite low on the A220 programme," says Gentile. "As we see the market recover and air traffic resume, we expect to see [A220] rates get back to where they were projected to be previously, and that will also improve the profitability of the programme."
"If we can see those production rates climb [to] 100, 125, 130 – we can be profitable," Suchinski adds.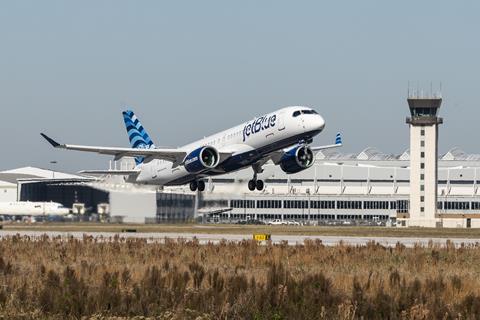 Airbus, which acquired the A220 programme from Bombardier in 2018, last year pushed back its estimated A220 break-even point to the mid-2020s.
"Our goal is to… try to get there sooner than that," says Spirit's Suchinski. Spirit is also working to reduce A220 programme costs through efforts including site consolidation and supply chain changes, he adds.
Airbus delivered 38 A220s in 2020, or about three monthly. The European airframer, which had 484 A220s on order at the end of January, expects to ramp production to five A220s monthly this quarter.
Airbus has capacity to build 10 A220s monthly at its Mirabel site in Canada and four monthly at its new Mobile, Alabama A220 assembly site, the company has said.