Costly fuselage rework and increased supply chain and labour expenses pushed US aerostructures manufacturer Spirit AeroSystems to a $204 million loss in the third quarter of 2023.
The Wichita-based company attributes the results, released on 1 November, largely to charges and adjustments related to its production of components for Boeing 737s, 787s and Airbus A350s.
But Spirit says a recently revamped commercial agreement with Boeing places it on a recovery footing.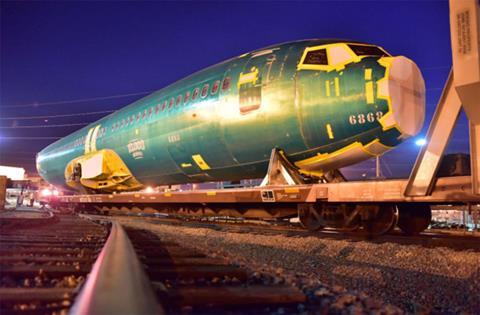 "Our priority is to strengthen Spirit financially. The signing of the memorandum of agreement with Boeing was an important step forward," says Spirit interim chief executive Patrick Shanahan, who took over the top job on 30 September from long-time chief Tom Gentile.
"The Spirit team is focused on meeting our customer commitments, improving operational performance and commercial conversations with Airbus."
The $204 million third-quarter loss compares with a $128 million loss in the same period last year. In total, Spirit has lost $692 million across the first nine months of 2023.
Spirit generated $1.4 billion in third-quarter revenue, up 13% year on year, reflecting an overall bump in its delivery of components. But its costs surged 24% year on year to $1.6 billion.
Its commercial aviation business posted a $82 million operating loss in the third quarter and delivered parts for 332 aircraft, including for 83 737s. By comparison, in the third quarter of last year it had delivered components for 316 aircraft, including for 69 737s.
Spirit's third-quarter loss also reflects a $101 million charge taken largely to account for costlier supply and labour expenses related to its 787 and A350 work, the company says. It also logged $49.3 million in additional 737 programme costs, reflecting aft-pressure bulkhead rework, and $10.6 million in additional A320 costs.
In August, Spirit said it had discovered defective holes in 737 aft-pressure bulkheads, requiring it to inspect and fix undelivered components. The problem also requires Boeing inspect and fix more than 150 of its undelivered 737s, prompting the aircraft maker to cut its anticipated 737 deliveries for the year.
On 18 October, Spirit said it and Boeing reached a new commercial agreement under which the airframer will provide Spirit $100 million to fund "tooling and capital" related to 737 and 787 rate increases.
The deal also increases the prices Boeing will pay Spirit for 787 components in the near term, and decreases prices for 737 components starting in 2026. Spirit said the changes will leave it with $60 million more cash this year and $395 million more in total in 2024 and 2025.