Spirit AeroSystems has extended beyond 8 April the shutdown of several sites that support Boeing programmes, a change coming in response to Boeing's decision to extend closures of its sites in Washington State.
"As a result of the customer's announcement, Spirit is assessing the restart of our Boeing programmes that was planned for April 8," Spirit says. "We will have further announcements tomorrow about work over the coming weeks once we have discussed the situation with our customer."
The Spirit sites that were to reopen on 8 April included those in Wichita, Kansas, San Antonio, Texas, and Tulsa and McAlester, both in Oklahoma.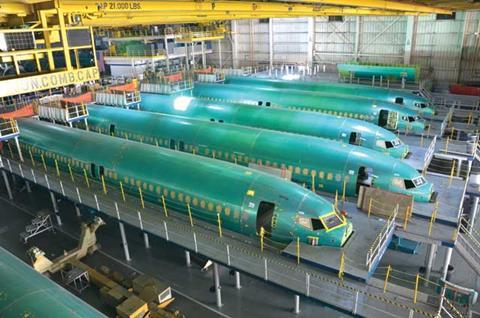 But on 5 April Spirit reversed that decision due to Boeing's announcement that it will not reopen Washington state sites "until further notice".
After several Boeing employees tested positive for coronavirus, Boeing on 25 March shuttered facilities in Moses Lake, Washington and in the Puget Sound region, which encompasses the Seattle area. The Boeing shutdown was initially to last two weeks.
Spirit also suspended Boeing work at several of its facilities on 25 March.
Though Spirit has halted plans to resume those Boeing operations, other of its operations remain active, including its South Carolina 787 site and facilities that support defence customers and Airbus, it says.