Spirit AeroSystems expects to fully resume production on 5 July, after its largest employee union voted to accept new employment contract terms, ending a week-long strike.
Around 6,000 members of the International Association of Machinists and Aerospace Workers (IAM) ratified the new contract, which will see unionised workers get a 9.5% pay increase, along with "significant improvements" in other areas such as medical benefits and overtime rules.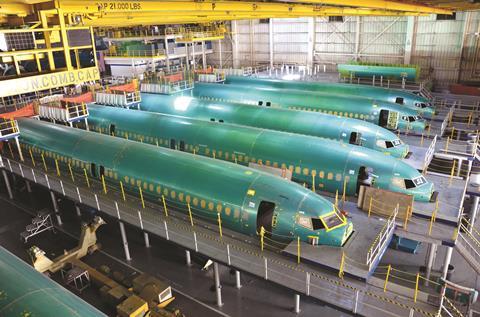 The new four-year contract takes effect 5 July, the union states. The company will on 30 June restore operations, and expects full resumption on 5 July.
Roughly 55% of Spirit's 12,000 employees are represented by IAM, according to company financial filings.
Spirit, a Wichita-based aerospace component maker, halted operations on 22 June after IAM-represented workers rejected a previous offer and approved a strike. The company is key supplier to major Western airframers like Boeing and Airbus.
The stoppage came at a particularly critical juncture for Boeing, which is looking to ramp up production of its 737 Max narrowbody programme. Roughly 45% of Spirit's $5 billion revenue in 2022 came from sales of components – notably fuselages – to Boeing for use on 737s.
Spirit president and CEO Tom Gentile says: "With its approval by our IAM-represented employees, we look forward to getting back to the important work of delivering quality products to our customers."
The company adds: "Spirit will closely coordinate with its suppliers and customers as it restarts production, and the company remains focused on safety and quality standards as it ramps up production."