ST Engineering's aerospace unit remained in the black for the full year as cost cuts and government assistance offset the full impact of the coronavirus pandemic.
For the year ended 31 December, the unit generated an operating profit of S$199 million ($150 million), a decline of 37% year on year.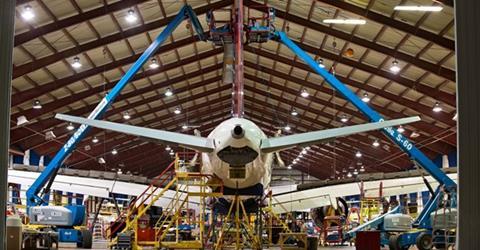 Revenue for the year fell 21% to S$2.7 billion, as the pandemic led to reduced business activity, particularly in the MRO sector. ST Engineering adds that its aerospace unit "was impacted the most due to a weak aviation sector as passenger air travel was curtailed".
Full-year net profit, meanwhile, fell 28% to S$193 million. The unit's profitability was also hit by asset impairment costs.
Within the aerospace unit, its components and engines repair and overhaul segment saw the largest year-on-year drop in revenue, falling by more than half to S$398 million. In contrast, its aircraft maintenance and engineering segments saw slower declines in revenue.
ST Engineering's aerospace unit secured contracts worth S$2.9 billion for the full year, including multi-year airframe maintenance contracts for airlines in Asia and North America, as well as a nacelle maintenance contract for Qantas' Boeing 737-800 and Airbus A330 fleet.
It also secured orders under its passenger-to-freighter conversion programme for the Airbus A321, with Qantas taking delivery of the world's first A321P2F in October 2020.
The freighter conversion programme will be a priority this year. Group chief executive Vincent Chong notes that the aviation industry "remains subdued and is unlikely to recover to pre-pandemic levels in 2021".
"Nevertheless, we are focusing on delivering our order book, seizing new opportunities in areas like freighter conversions and cybersecurity," he adds. "With partial revenue recovery, when combined with savings from our cost reduction initiatives, we target to offset the effects of lower government support in 2021."