ST Engineering is to begin constructing a fourth airframe MRO facility in Singapore – its newest in the city-state in more than 10 years – amid growing global maintenance demand.
The 84,000 sq m (904,000 sq ft) hangar facility will be located at Singapore Changi airport, where ST Engineering has existing an MRO facility, at a cost of around S$170 million ($125 million).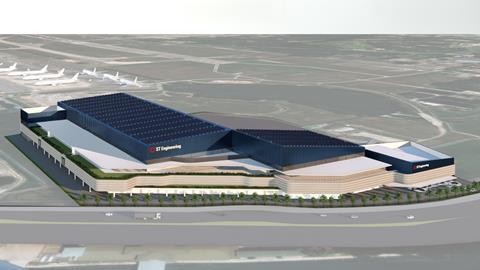 The new facility, on the northen end of the airport compound, features three maintenance bays capable of handling widebody aircraft, as well as a fourth line with paint and maintenance capabilities. ST Engineering expects the first maintenance line to be operational in mid-2025, with the full facility ready a year later.
ST Engineering commercial aerospace president Jeffrey Lam says when the new facility is fully operational, it will add an additional 1.3 million airframe maintenance man-hours annually, or about 10% of its global MRO capacity.
Lam says with the opening of the fourth hangar facility, its Singapore operations will take the largest share of its global capacity, at more than 30%. ST Engineering has airframe maintenance lines in the USA (Mobile, Alabama, San Antonio, Texas and Pensacola, Florida), Mainland China (Shanghai and Guangzhou), as well as in Germany (Dresden).
The company in February expanded its MRO capacity in the USA, opening a new two-bay hangar at its Pensacola facility in Florida. It also in the process of setting up an airframe MRO joint-venture in China.
Amid its overseas expansion plans, Lam notes that "there is still a long-term future for airframe maintenance in Singapore", despite challenges posed such as land constraints.
"[The Singapore] workforce is very good, competent and competitive, so we are able to deliver our solutions and services…at a very high quality, in a very safe way, and at competitive rates. So Singapore obviously is a hub with a strong aerospace industry presence…which supports the whole industry," says Lam.
The new hangar construction comes comes as ST Engineering's commercial aerospace unit sees a strong increase in MRO revenue in the first half of the year, helping it to remain profitable.
For the six months ended 30 June, the unit posted a positive EBIT of S$178 million, a slight drop from the year-ago period, when its EBIT stood at S$183 million.