As the old business adage goes: never waste a good crisis. Of course, the aerospace industry has never seen a crisis quite like the current coronavirus-driven downturn, but for some, that maxim remains as relevant as ever.
Jeffrey Lam, the newly installed president of ST Engineering's aerospace division, can be counted among that group. While Covid-19 has caused the unit's business to plunge - at points by up to 90% - he remains unflustered, and instead sees an opportunity in the current situation.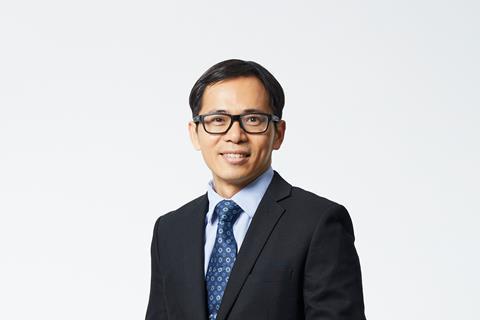 Lam took the reins on 1 October, when his predecessor Lim Serh Ghee was promoted to the role of ST Engineering chief operating officer.
In an interview with FlightGlobal days after assuming his new role, Lam cuts an optimistic figure, despite the gloom surrounding the aviation industry: "A crisis like this offers us opportunities," he begins, rather setting the tone for the conversation.
"For example, what… are some of the growth and acquisition opportunities? We continue to focus on partnership opportunities, looking for acquisitions, in the right space, at the right time. So we do have active discussions ongoing, for example, [about] some partnership arrangements outside of Singapore. A crisis is an opportunity not to be missed."
For example, the pandemic has allowed ST Engineering to double down on its smart technology initiatives, such as the use of drones in its work processes.
While the idea of using unmanned air vehicles for MRO operations is not new, the pandemic has given the company "an opportunity to accelerate" their usage, such as for aircraft inspection tasks, says Lam.
But while aerospace is perceived as a high-tech industry, some areas can be resistant to change. Lam admits that the "traditional operating environment that is aerospace…[and especially] MRO", is a "little bit harder to transform.
"But we recognise the opportunity, and we have been accelerating these programmes and investing in people to move these activities forward," he says.
FREIGHT EXPECTATIONS
Another area of opportunity that ST Engineering has been quick to tap into has been the growing demand for passenger to cargo conversions. That market "is very important to the short- to medium-term strategy", Lam says.
ST Engineering is seeing a "higher number of… inquiries about what we can do for them" in the freight market, whether that is the permanent conversion of passenger aircraft, or a temporary modification – by removing seats, for example – to allow the aircraft to carry more cargo.
The company recently announced that it was ramping up production slots for Airbus A321 passenger-to-freighter (A321P2F) conversions.
In addition to existing modification lines for the A321P2F programme in Germany and Singapore, in September it said that Chinese unit ST Engineering Aerospace Guangzhou Aviation Services and Alabama operation VT Mobile Aerospace Engineering would also be equipped to handle conversions of the popular narrowbody. The move will bring total annual capacity from nine to 25 aircraft by 2023.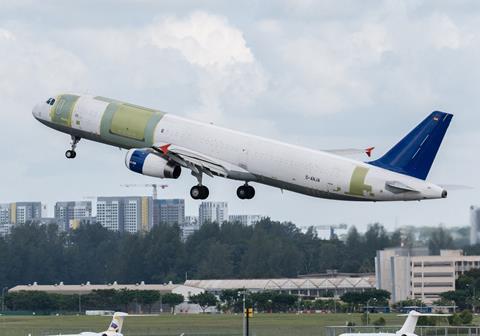 And this part of the business is not immune from the drive for innovation either: ST Engineering's German joint venture EFW is also looking into creating containers about the size of an aircraft seat, meant for temporary converted freighters.
The design will allow for the container to be loaded through a standard passenger door before being locked into seat tracks. Instead of "carrying bags and packages" or moving pallets through the aircraft door, it will permit the efficient loading and unloading of cargo from the passenger cabin.
CUSTOMER FOCUS
The new container design is one example of how ST Engineering is "open to all kinds of solutions", says Lam.
"[This] is something we just want to help our customers with. It is not like a big business, you know, you're not [going to] make a tonne of money there, but helping our customers that use the passenger aircraft as freighters is going to help them return to operation [and] return to profitability. Really, that's our focus right now, to help them survive the crisis," says Lam.
"We want to be there to support our customers [and] help them recover… from a financial point of view, cash-flow point of view, and also from a going back to flying point of view."
Lam says the company's focus is, and has always been, about "creating value for the customer".
"When we say we create value for the customer, it is about capability, it is about value, it is about safety and quality," he adds. That also includes helping them during the pandemic-driven crisis, a point Lam reiterates on several occasions during the interview.
"We want to be there to support our customers [and] help them recover… from a financial point of view, a cash-flow point of view, and also from a going back to flying point of view," he tells FlightGlobal.
Of course this is not pure altruism: the aerospace unit's fortunes are firmly tied to those of its customers, he notes.
"Where we are now, if the situation prolongs significantly, then we will continue to see more insolvency situations with our customers, which is really bad," says Lam.
The pandemic, which has forced airlines across the world to ground most of their fleets, could cause the MRO market to be low "for a while", says Lam, even as flying gradually returns due to low utilisation rates.
"One of the concerns we have is how our customers are going to come back to profitability. So even when the aircraft comes back to fly, the load factors are so low, they lose money. And when our customers lose money, we are very worried," he adds.
In the short term, Lam says ST Engineering is working with its customers on rescheduling work, as well as "working with them on their cash flow".
On top of that, ST Engineering has also used the slowdown to train – and retrain – its workers.
Lam says the company is fortunate to be able to receive wage support from the Singapore government, which has gone some way in helping to cushion the blow from the pandemic.
SINGAPORE HUB
One advantage ST Engineering has against its regional competitors is what Lam calls its "breadth of capability", paired with its presence not just in Singapore, but in China, Europe and North America.
"I mean, literally from the birth of an aircraft, to retirement, and then from the nose to the tail. [We have a] huge, broad range of capabilities, a huge footprint and very comprehensive capability," says Lam.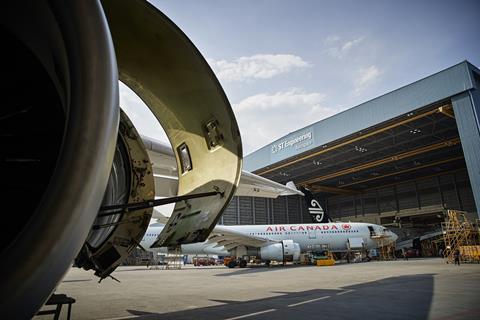 "So to be all that, and then to be independent, and then to actually survive without being bought, I would say, is truly unique," he says.
Lam adds that ST Engineering's Singapore home, is "truly the global hub for aerospace".
"For any single country, [Singapore has] so much capability, and this much representation of OEMs and aerospace interests is hard to find in any country, you know. So, I'm really happy about it," says Lam, who entered the aerospace industry more than 25 years ago.
The island nation has come a long way since that point, however. Lam recounts how he, while deciding what to study at university, realised that Singapore did not offer a bachelor's degree in aerospace engineering, a subject that was close to his heart.
Lam ended up taking on a government scholarship to study the subject overseas, returning to Singapore with liberal arts and engineering degrees.
On graduation, he worked at Singapore's Economic Development Board, where he was "promoting the aerospace industry", to seek investment by foreign OEMs and suppliers into the country.
It was during his stint at the Singapore government, some time between 2000 to 2003, that he addressed the higher education gap that he had previously discovered, reaching out to local universities and polytechnics and persuading them to start aerospace engineering courses.
Today, he says, there is a "wonderful explosion" of aerospace programmes in local institutions. Lam is also quick to point out that aerospace courses "remain one of the hottest programmes in the schools".
"So today, the young don't have to go overseas to get their degree. They can get it here. And we have been hiring many of them, you know, who graduated from the local universities in aerospace engineering," he adds.
"I've been fortunate to see the evolution of the industry from small to, from comprehensive to even bigger," he says reflectively.