Safran Helicopter Engines is to collaborate on the development of the hybrid-electric propulsion system for Aura Aero's Electric Regional Aircraft (ERA).
Covered by a memorandum of understanding, the agreement will see the rotorcraft propulsion specialist supply a turbogenerator to the ERA programme.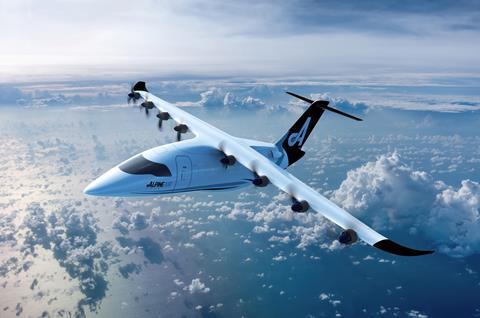 Bordes, France-based Safran Helicopter Engines joins sister company Safran Electrical & Power in working on the ERA; an agreement signed in April 2022 will see it provide electrical equipment, including motors, for the 19-seater's development.
Safran Helicopter Engines has already ground-tested several turbogenerators at various power levels.
"Becoming an Aura Aero partner is excellent news for Safran Helicopter Engines. We share the same ambition to decarbonise air transport, and are ready to bring them our expertise in hybrid-electric propulsion, developed through several tests," says the engine maker's Florent Chauvancy, executive vice-president, OEM sales.
Jeremy Caussade, CEO of Aura Aero, adds: "We're delighted that Safran Helicopter Engines has joined us, bringing their expertise and insight to this project."
Aura hopes to fly the ERA in 2026, leading to certification and service entry in 2028.
Backlog for the type has been further bolstered by tentative agreements revealed at Paris: Pan Europeenne Air Service, a France-headquartered carrier, has signed for four units in nine- and 19-seat layouts, while Philippines-based Asian Aerospace has sealed a deal for three aircraft. Aura now has an orderbook approaching 350 units.
A separate collaboration agreement with Utah cargo airline Alpine Air Express will see the two firms work together to define the "operations and customer support services of the ERA aircraft and the development of a configuration compliant" with the carrier's requirements. No order commitment has been detailed as part of the pact, however.
Meanwhile, Aura and Airbus Flight Academy Europe, have signed a co-operation agreement covering the introduction of electric-powered aircraft for pilot instruction.
Airbus Flight Academy Europe, which trains French military and civil pilots, will collaborate on the initial development of Aura's Integral E, a full-electric, two-seater.

Dominic Perry is deputy editor of Flight International but also contributes extensively to flightglobal.com. Although specialising in the coverage of the helicopter industry, he has written on most topics in aerospace – be they commercial, defence or business aviation. In addition, there has been an increasing focus on the decarbonisation of the industry and zero-emission flight initiatives.
View full Profile