Aerion Supersonic has selected Universal Avionics' (UA) ClearVision enhanced flight vision system (EFVS) for its in-development AS2 high-speed business jet.
The ClearVision system on the AS2 jet will include its high-resolution EVS-500 enhanced vision system camera, as well as 3D synthetic vision system.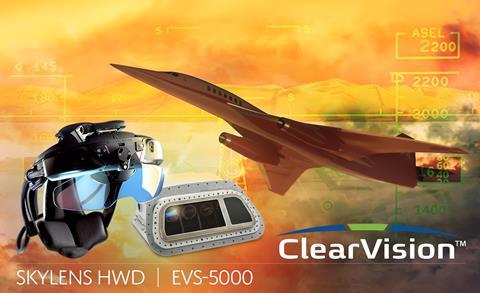 "ClearVision greatly improves crew resource management in the cockpit of the AS2, supporting Aerion's ongoing mission of faster point-to-point travel. In addition, ClearVision offers pilots the ability to overcome degraded visibility situations day and night to move in and out of airports faster, saving time and increasing operational efficiency," says UA.
UA chief executive Dror Yahav says the ClearVison EFVS will bring "unprecedented capabilities" to the AS2 jet, and "demonstrates a compelling roadmap to the future, on top of the proven operational landing credit and all-weather operation".
Steve Berroth, who is Aerion's chief operating officer and executive vice president of aircraft development, adds: "With a proven track record of innovation, Universal Avionics has become the market leader in head-wearable display systems and EVS sensors. This industry-leading technology will offer pilots of the AS2 unparalleled vision and enhanced situational awareness capabilities."
Aerion intends to begin manufacturing AS2 — the world's first supersonic business jet concept —in Melbourne, Florida in 2023. Melbourne will also be its future headquarters.
Triple 20,000lb-thrust-class (89 kN) GE Aviation Affinity engines will power AS2, which Aerion has said will have a 4,200nm (7,780km) range at Mach 1.4 and 5,400nm range at M0.95.