B-N Group, the parent company of UK aircraft manufacturer Britten-Norman, has blamed "extremely challenging" market conditions for a £3.6 million ($4.45 million) loss revealed in its latest accounts.
Detailing its performance in the year to 31 March 2022, B-N Group says sales of new aircraft were "seriously affected by Covid-19-related supply chain issues at its strategic supplier".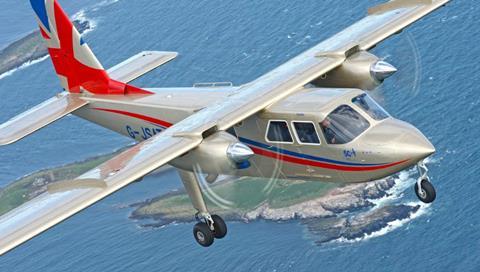 As a result, turnover fell year on year to £8.8 million, from £12.5 million, leading to a loss after tax of £3.6 million, against a modest £188,000 profit in the same period a year earlier.
B-N Group says the supply chain weakness drove a "decision to reshore its overseas manufacturing capabilities".
Companies within the group include Britten-Norman Aircraft, which is the type certificate holder for the nine-seat BN-2 Islander.
Earlier this year, the manufacturer announced plans to relocate Islander production from Romania to its plant in Bembridge on the Isle of Wight, off the south coast of the UK. It will host a formal opening event for a new line at the site on 21 September.
This move will enable it to achieve output of eight aircraft per year, it says, "in order to support the current order pipeline of conventionally powered Islanders".
But the company is also preparing to "increase output further from 2026" to support the production of zero-emission aircraft.
Britten-Norman is working with Cranfield Aerospace Solutions (CAeS) – a company with which it is due to merge later this year – to develop a hydrogen fuel cell-powered version of the Islander. That aircraft is expected to enter service in 2026.
To finance the production location switch and to clear "other accumulated creditor balances" the company requires additional financing, the accounts disclose.
This has "led to the company's decision to engage in fund-raising activities, which are now at an advanced stage".
It is unclear if this is in addition to the merger plan with CAeS, through which £10 million is to be injected into the combined business from HydrogenOne Capital Growth, Safran Corporate Ventures, and United Arab Emirates-based finance firm Strategic Development Fund. Additional funding was also being sought, the companies disclosed in April.
The accounts also contain a qualified warning about the group's ability to continue as a going concern.
Auditors Menzies note the company will "require further funding in the coming months to fund working capital requirements and this funding has not yet been secured at the date of this audit report". The accounts were signed off on 31 August 2023.
As such, a "material uncertainty exists that may cast significant doubt on the group's ability to continue as a going concern".
However, Menzies has concluded that preparation of the accounts on a 'going concern' basis is appropriate due to a detailed review of management forecasts "corroborated by evidence" supporting the assumptions.
"This includes a review of correspondence and other documents supporting the latest position with securing the required additional funding," the report notes.
B-N Group is owned by Omani national Alawi Zawawi, who will also join the merged Britten-Norman/CAeS business.

Dominic Perry is deputy editor of Flight International but also contributes extensively to flightglobal.com. Although specialising in the coverage of the helicopter industry, he has written on most topics in aerospace – be they commercial, defence or business aviation. In addition, there has been an increasing focus on the decarbonisation of the industry and zero-emission flight initiatives.
View full Profile