Scott Donnelly, the chief executive of Textron – owner of Beechcraft, Cessna and Bell – has seemingly ruled out the imminent launch of an urban air mobility (UAM) vehicle, stressing that battery technology has not advanced sufficiently to support such an application.
The US firm earlier this year formed a new division, eAircraft, headed by company veteran Rob Scholl, which brings together expertise from its Textron Aviation, Bell and Textron Systems businesses.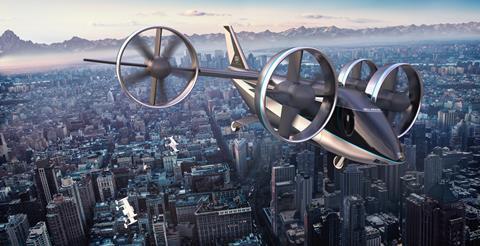 But speaking to financial analysts on 29 April, Donnelly said the firm was in no rush to enter the market for electric vertical take-off and landing (eVTOL) aircraft.
While Textron's various divisions have capabilities in core areas for eVTOL aircraft, a mature propulsion system, particularly battery technology, will be key, he says.
"This has always been hugely important in our industry. We would never undertake a new airplane, fixed-wing or vertical take-off and landing, without having the right propulsion system to make sure that it's going to be successful.
"And I think largely, that comes down to the battery technology. So we've got teams, obviously, that have been following that and working on that, and we'll make our move when we think it's the right time."
Donnelly also indicates that, in his view, "small tiltrotors" are likely to be a preferred architecture "in some of this urban air mobility space".
While Bell has undoubted expertise in tiltrotor technology through its development of the military V-22 Osprey – alongside Boeing – and V-280 Valor demonstrator, its Nexus UAM concept is designed around tilting ducted fans.
Textron's reluctance to rush into the market comes despite the fact that "people are throwing money at people who have never built planes before", as one analyst put it.
Was Donnelly not concerned, he was asked, about missing an opportunity and ceding potential first-mover advantage "by not moving and taking some money and kind of getting into the fray quicker?"
But Donnelly plays down those fears. "We do think there's a potential for a very, very large market out there in that urban air mobility space, but you have to make sure that all the technology you need to have in place to have a useful aircraft is there," he says.
"But look, am I worried about some of these guys that have never certified an aircraft obviously going to dominate a market? I'm not worried about that at all."