FlyZero is close to being able to reveal all three of the hydrogen-powered concept aircraft designs it is working on, as the project nears the end of its initial one-year remit.
On 6 December FlyZero showed off its concept for a mid-market aircraft. This would be sized to transport 279 passengers on routes of up to 5,200nm (9,630km) and would be powered by turbofan engines burning liquid hydrogen.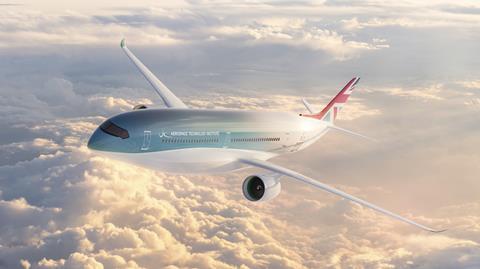 Although the project was expected to unveil its three concepts – covering the regional, narrowbody and mid-market segments – early next year, it instead decided to advance the process.
"We just felt that we have got enough definition on what the aircraft is going to look like that it wasn't worth waiting until February," says project director Chris Gear.
"But we are still playing with it in the background to make it a little bit more optimised."
FlyZero says the cryogenic storage tanks for the liquid hydrogen would be located in the aft part of the jet augmented by additional 'cheek' tanks along the forward fuselage to help balance its centre of gravity. Wingspan is given as 54m (177ft).
The planned performance and size of the jet puts it somewhere between the 296 passengers and 7,560nm range of the Boeing 787-9 and the 244-seat, 4,700nm-range Airbus A321XLR.
Gear stresses that the project views the design as entirely achievable, but notes that there is "a lot of engineering" still required to make it a commercial reality, alongside significant changes to airport infrastructure to enable its operation.
Although FlyZero also teased an image of a single-aisle design at a Royal Aeronautical Society conference on 1 December, Gear says this is "not fully realised like the widebody".
Its current concept features engines integrated into the V-tail and has forward canards; Gear confirms this will also burn liquid hydrogen.
FlyZero's target is for the aircraft to carry over 150 passengers in a single-class with a range of more than 1,500nm at the same speeds and altitudes as current designs.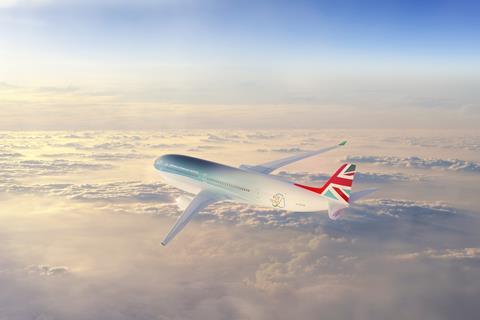 The regional aircraft, meanwhile, is "still a work in progress" as elements of the design are adjusted to meet weight and balance requirements. However, rather than hydrogen-burning turbine engines, this will instead use a fuel cell-based electric powertrain.
Liquid hydrogen remains the project's favoured fuel source due to its zero emissions and high energy density compared with regular jet fuel. FlyZero believes that provided all the technical challenges around its use can be overcome, up to 40% of flights by 2050 could be hydrogen-powered.
FlyZero is a project administered by the UK government-funded Aerospace Technology Institute (ATI) with its 100-strong staff seconded from industry. It is designed to position the UK as a leader in the design and production of sustainable aircraft.
In March 2022 it will publish final details of the aircraft concepts, plus almost 70 pieces of supporting research including technology roadmaps, market and economic reports, and a sustainability assessment.
But negotiations over FlyZero's future remain ongoing and are tied to wider discussions about the continued funding of the ATI.
Gear says the project "would like to see additional funding directed to [research and technology] on certain techno-bricks", as well as skills, to ensure the UK remains at the forefront of their development.
And although the findings from FlyZero's research efforts will be a valuable tool for industry, Gear says it would be a "missed opportunity" if the government did not support the project's continuation.