A trio of aerospace manufacturers are to collaborate on the development of a liquid hydrogen fuel system for future zero-emission aircraft applications.
Covered by a memorandum of understanding, the agreement will see GKN Aerospace, Marshall Aerospace and Parker Aerospace working together to deliver the fuel system.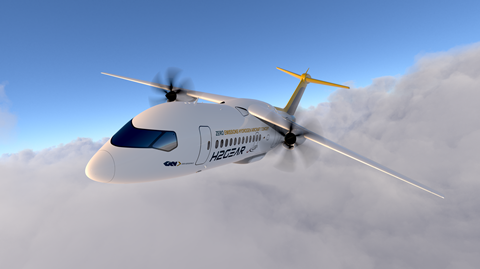 It will be capable of supporting applications using either hydrogen-electric fuel cells or hydrogen combustion, the partners state.
GKN is already working on a hydrogen fuel cell powertrain under a UK government-backed project called H2GEAR.
While this will culminate with ground tests of a 1MW-class system in 2025, GKN sees the architecture as able to scale up to power a regional aircraft with at least 100 seats. "Scalability of the system for larger narrowbody aircraft is currently being studied," it adds.
At the recent Paris air show, the manufacturer signed a pact to work with Embraer that envisions flight testing of the system in the 2028-2029 period.
GKN says its "intent" is to bring the "complete scalable fuel system and propulsion system together in a single flight-testbed environment before the end of the decade".
Russ Dunn, chief technology officer at GKN Aerospace says: "With this [latest] agreement, we have now set out a complete path to achieving zero-emission flight at a game-changing scale.
"By working alongside Marshall and Parker, who have deep expertise in fuel systems, we can accelerate the development of the technology building blocks required for a complete hydrogen propulsion system for mid-range aircraft."

Dominic Perry is deputy editor of Flight International but also contributes extensively to flightglobal.com. Although specialising in the coverage of the helicopter industry, he has written on most topics in aerospace – be they commercial, defence or business aviation. In addition, there has been an increasing focus on the decarbonisation of the industry and zero-emission flight initiatives.
View full Profile