A newly established lobby group promoting hydrogen aviation in the UK will by year-end publish an initial roadmap setting out the steps policymakers must take if the sector is to flourish.
Unveiled on 5 September, the Hydrogen in Aviation (HIA) alliance includes representatives from budget carrier EasyJet, OEMs Airbus, GKN Aerospace, and Rolls-Royce, Bristol airport, and clean energy specialist Orsted.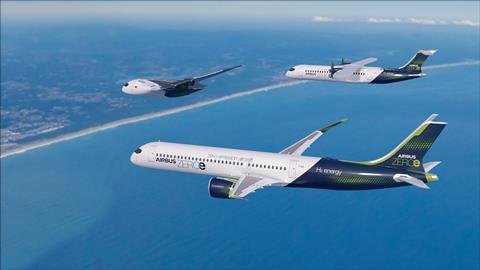 Speaking at a launch event in London, Johan Lundgren, EasyJet chief executive and the alliance's first chair, said the member companies view hydrogen as enabling a "step-change" in emissions, allowing passengers to "continue to fly but at the same time reduce their impact on the environment."
Additionally, prompt action to develop hydrogen capabilities will allow the UK's aerospace industry to secure an up to 19% share of global aerospace revenues in the period to 2050, potentially worth up to £34 billion ($42.7 billion) annually.
Airbus is aiming to have a hydrogen-fuelled aircraft in service by 2035 through its ZEROe programme, while Rolls-Royce and GKN are both developing hydrogen propulsion technologies to be ready in a similar timeframe.
But to achieve that goal – and enable the sector to meet its net-zero obligations by 2050 – a clear policy roadmap needs developed and implemented urgently, says Lundgren.
"It would be unforgivable if the aircraft were ready to fly… but were held back because some of these policies were not really in place," he says.
He calls for the creation of a 10-year R&D programme dedicated to hydrogen in aviation, which would deliver results ahead of the ZEROe service-entry target.
Besides securing funding for technology development and maturation, such as through the Aerospace Technology Institute, the alliance is seeking commitments around infrastructure, clean energy production, and the regulations governing aircraft approvals and hydrogen distribution.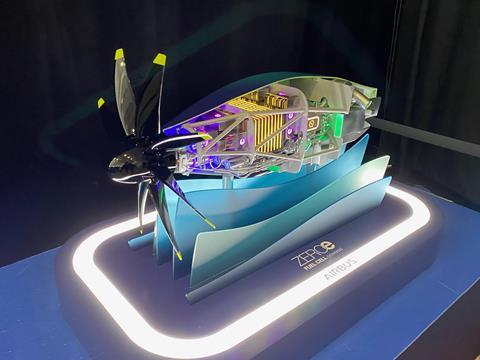 Lundgren says the HIA alliance will "before the end of this calendar year" lay out a roadmap addressing those topics.
"We intend to come out with the milestones that will be needed in terms of what those investments will need to be," he says.
Mark Bentall, head of research and technology at Airbus, sees the broader infrastructural and regulatory challenges as key hurdles to overcome.
"Hydrogen as a technology is very well known. Making it into a product, producing and scaling it – those are the difficult things; that's what requires alignment of timelines, milestones, and investment on both sides," he says. "It not just funding, it's funding, alignment and policy."
Prompt engagement with aviation regulators will also be vital, argue Russ Dunn, GKN Aerospace chief technology officer, as they scrabble to keep pace with the implementation of new technologies.
"The reality is that these organisations are also having to learn a great deal. We are developing, at the very leading edge, the exploitation routes for hydrogen – [while] in these organisations, most of the technical skills have been developed around relatively commercial existing core technologies.
"They are also on a learning journey. Our challenge is to make sure they can keep up with the learning that has been taking place in industry."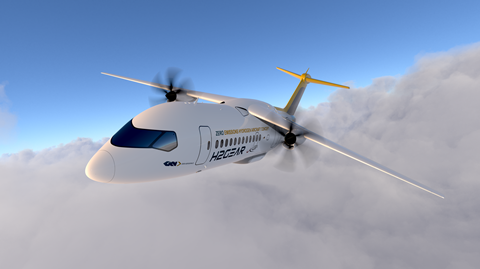 That will require additional resources and investment – and "joined-up thinking" between different regulators, he argues.
Regulations have developed "organically" over the preceding decades and "the requirements written for yesterday's aircraft might not be appropriate for the aircraft required tomorrow", he adds.
Key to the success of the alliance will be its cross-industry make-up, says Lundgren. "We can all bring the critical knowledge that we have within our organisations together to say that, 'look, in order for this to work across the whole of the value chain, here's what needs to happen,'."
Grazia Vittadini, chief technology officer at Rolls-Royce, says the propulsion specialist is "excited" to be part of the project.
"The challenge of decarbonising the skies is daunting, and we all know that hydrogen is the only vehicle to do so with zero CO2 emissions. That's why we believe it is absolutely meaningful to bundle our forces."
Rolls-Royce in 2022 completed a first ground run of a modern aero- engine powered by gaseous hydrogen combustion. That project, which also involves EasyJet, will later this year see full-scale tests of a Pearl 15 business aviation engine running on hydrogen.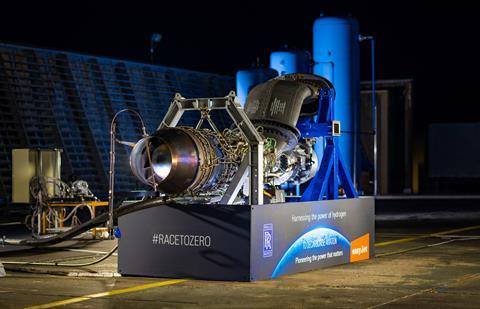 Dominic Perry is deputy editor of Flight International but also contributes extensively to flightglobal.com. Although specialising in the coverage of the helicopter industry, he has written on most topics in aerospace – be they commercial, defence or business aviation. In addition, there has been an increasing focus on the decarbonisation of the industry and zero-emission flight initiatives.
View full Profile