The UK government-backed Future Flight Challenge (FFC) has today begun accepting submissions from projects seeking a share of £65 million ($90 million) under the third and final phase of its innovation programme.
Running for two years from April 2022, the Phase 3 effort will culminate in large-scale demonstrations of both air vehicles – ranging from drones, through urban air mobility vehicles, to electric or hybrid sub-regional aircraft – and the future aviation ecosystems in which they will operate. In each case, industry matches the FFC's financial contribution.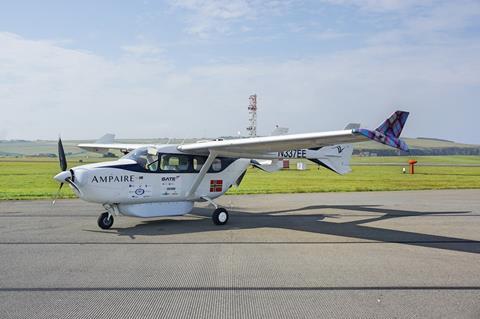 Meanwhile, for certain of the 34 main projects selected last year for the phase 2 programme, flight test activities are only now getting under way. For example, in recent weeks, US-headquartered electric aircraft developer Ampaire has flown its Electric EEL, a modified Cessna 337 Skymaster, in two separate FFC-backed initiatives at either end of the UK – SATE and 2ZERO.
Gary Cutts, challenge director, is pleased at the progress so far, with most projects running to schedule despite the logistical brake applied by Covid-19.
What has particularly heartened him, however, is the desire to innovate – and doing so quickly – in an industry that is "one of the worst affected on the planet" by the economic effects of the pandemic.
Although the sector has clearly been focused on cash conservation, this has not had a chilling effect on research and development. "The message is the opposite one – what we are seeing here is an appetite for innovation in the midst of the pandemic", says Cutts; industry, he says, "has been triggered by this emergency".
FFC has a total budget of £300 million: £125 million from the government, provided through the UK Research and Innovation body, and a further £175 million from industry.
According to the FFC's timeline, contained in its recently published roadmap document, during phase 2 "Services are developed and simulated, unlocking a path to certification and social acceptance." Phase 3, meanwhile, envisions that "Services are demonstrated in real-world, large-scale and integrated activities with strong socio-economic value propositions."
That then leads to industrialisation and commercialisation from 2026, scaling up, so that by 2030 "Fully integrated Mobility-as-a-Service operations provide seamless, sustainable and rapid transport for all."
Its ambition for 2024 – for which read the end of phase 3 – is to see demonstrations across a broad stream of activities enabling the development of an entire aviation ecosystem for the future and positioning the UK as a world leader in the sector. There are a total of 46 demonstration objectives across three categories: infrastructure (airports, booking systems, air traffic management); air vehicles; and "regulatory/knowledge-based infrastructure".
What that means is that aerospace technology projects are not funded in isolation. For example, the phase 2 work undertaken by the Ampaire-led 2ZERO consortium includes hardware providers such as itself and Rolls-Royce, but also airports and local authorities across southwest England, and researchers from the University of Nottingham to model the impact of introducing point-to-point aviation services in the sub-regional market.
Or to quote the application form for phase 3: "For [the aircraft] strand of the competition your project must include a means of demonstration of one or more of these classes of aircraft and enabling systems, operating in a representative environment."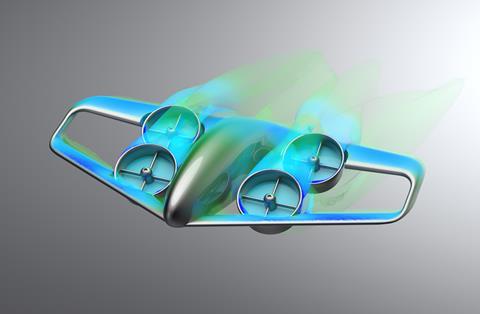 As Cutts puts it, the goal is not "decarbonising aircraft and carrying on as we were" – but using the significant improvements in operating economics promised by aircraft with novel powertrains "to enable air services", thus connecting people and places that were previously not served by air transport.
Phase 3 is split into two strands. Strand 1 will focus on demonstrating novel air vehicles, and Strand 2 will focus on developing the systems to support their deployment.
Assuming they are selected, certain of the phase 2 programmes are sufficiently structured to roll straight into phase 3, while others may need to merge to meet the selection criteria, says Cutts. In addition, companies or consortia that have not participated in the two earlier phases are not excluded from the process, he points out.
2ZERO likely falls into the former category as the project contains an element of pump-priming, funding R-R to develop a suitable electric powertrain for a 19-seat twin-engined sub-regional aircraft intended for phase 3 demonstrations.
But that project – and SATE to a lesser extent – has attracted criticism on two levels. First, detractors ask, what is the point of performing demonstrations with the Electric EEL? By Ampaire's own admission, it is unlikely to ever enter service and, besides, has already been the subject of airline route-proving tests in the USA.
Secondly, there is the question of Ampaire's presence in the UK: although it meets the FFC's criteria through its Ampaire UK subsidiary, that is a business with just five employees. Ampaire has also been vague on its plans for growing its operation outside the USA.
On the first point, Cutts concedes that the test flights will offer few insights into the operation of the vehicle itself, but he argues that the Electric EEL's presence will allow airports, local authorities and – the public, to an extent - "to engage with such an aircraft" and then come up with "the questions that need to be answered" before an electric-powered aircraft could begin sub-regional services.
Cutts highlights the issues that larger airports may have in dealing with small aircraft, or the multiple standards of charging equipment needed, as potential obstacles that need to be considered.
And although the modified Skymaster will likely never fly commercially "it is representative enough [of a production aircraft] that it engages the community," he argues.
As to Ampaire's UK credentials, Cutts is at pains to stress that its bid was compliant with the entry criteria. He adds: "The small team they have created didn't used to exist in the UK. It is small, but undoubtedly doing highly technical work here. [But] if they took further money [we would expect] them to put more roots down."
Nonetheless, he notes that funding like that from the FFC, opens up the opportunity for "quite substantial" foreign direct investment in UK in the future.
Phase 3 applications are due by 3 November and Cutts hopes to conclude the selection process in time for contracts to be in place by April next year, giving those rolling over from phase 2 an element of continuity.
He says there has been no decision yet on the number of projects to be funded, but given the larger scale of the demonstrations, the final number is likely to be lower than the 34 backed in phase 2.