Research and technology funding through the UK's Aerospace Technology Institute (ATI) will be prioritised across three areas to keep the sector on track to achieve net-zero emissions by 2050.
Although "unprecedented" levels of investment will be needed to hit the industry's goals, the ATI believes that if successful, UK companies could increase their share of the global market for civil aircraft by 2050, taking 18% of a sector whose deliveries will be worth an estimated £200 billion ($250 billion) by 2050.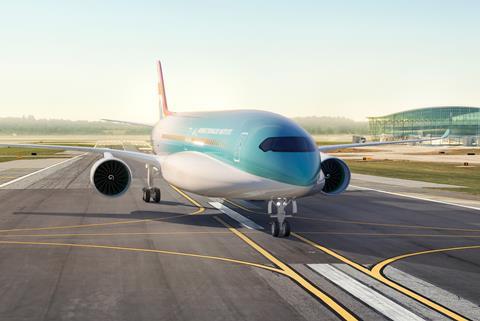 Outlining its latest technology strategy on 27 April – dubbed Destination Zero – the government-backed body identifies three core areas of focus: zero-carbon emission aircraft technologies; ultra-efficient aircraft technologies; and cross-cutting enabling technologies and infrastructure.
Pursuit of all three technology streams is an "imperative" for the UK as they are "interdependent and mutually supportive", says the ATI.
"Maintaining progress on ultra-efficient aircraft technologies is vital to the UK's future zero-carbon emissions opportunities, as our leading strengths in wings, propulsion and systems technologies are the areas that will see the biggest change and therefore competitive threat."
Enabling infrastructure and tools will be vital to support higher production rates and to lower design cost and time, it adds.
Investment priorities for each technology area have been defined, led by three goals: to position the UK to lead the global aerospace sector on the path to net zero, accelerate the adoption of technologies aligned with a net-zero ambition through capabilities for design, manufacture and through-life support, and secure UK industrial competitiveness.
The ATI estimates that the market for ultra-efficient commercial aircraft will be worth £4.3 trillion over the 2022-2050 period. It sees a possibility of the UK increasing its share of the global civil aircraft market from 13% currently to almost 18% by 2050 as fleets transition to zero-carbon technologies.
"However, achieving this market growth relies on early and sustained investment into the development of zero-carbon, ultra-efficient and cross-cutting technologies," the strategy says.
In addition, it warns that in order to hit the government's net-zero targets, UK aerospace firms will have to "accept more risk within their technology portfolios to make the advances that will be needed".
Key success criteria are laid out for each technology stream. For zero-carbon technologies, the ATI's goal is to mature "UK strategic" systems, including a hydrogen gas turbine, cryogenic and heat management fuel systems, and dry wings. These should be at technology readiness level (TRL) 6 for ground demonstration by 2025. A route to flight testing such systems ahead of 2030 along with international partners should also be developed.
Additionally, research into fuel cell systems for regional aircraft should be continued, with the goal of achieving service entry of a "UK technology supported vehicle" by 2030.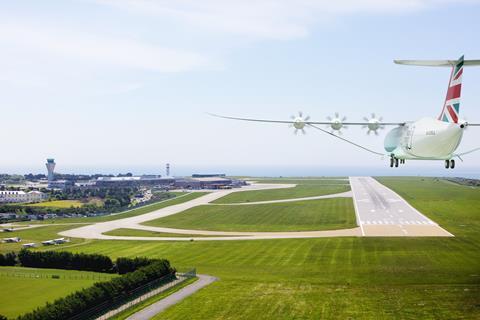 In the ultra-efficient workstream, maturation of an ultra-high-bypass ratio turbofan engine should see it brought to TRL6 "ensuring readiness for new commercial aircraft opportunities with entries into service from 2030 onwards".
Composite wings suitable for the next-generation of single-aisle aircraft from 2030 and widebodies from 2035 will be another priority area. These should "exploit new aerodynamic technologies and high-rate manufacturing and assembly [techniques]", it says.
And for cross-cutting technologies, the ATI says the programme's success "will be judged by our ability to meet the ultra-efficient and zero-carbon milestones" through the development of "technologies that dramatically improve the speed and cost to design, develop, manufacture and support aircraft".
Noting that action is required now if the industry is to achieve its goals, the ATI also points out the "unprecedented" levels of research, investment and technology development required.
However, it also highlights the "size of the opportunity", adding: "We must work together across the wider ecosystem to seize the opportunities presented and establish the UK aerospace sector as the global leader for future sustainable aircraft.
"How successful we are will depend on how fast and how aggressively we respond."
To develop Destination Zero, the ATI liaised with industry, academia and the government. In addition, the work was "informed by the outputs of the independent FlyZero feasibility study" which reported earlier this year and determined the "the technical, commercial and economic potential of large commercial zero-carbon emission aircraft".
"The FlyZero project, delivered over 12 months by a team of more than 100 specialists, has transformed the ATI and industry's understanding of the potential for zero-carbon emission technologies," it says. Outputs included three concept aircraft, addressing the regional, narrowbody and midsize segments.
Earlier this year, the government said it would provide £685 million to the ATI over the next three years, having previously confirmed its support for the body until 2031.
In addition, it recently announced the establishment of a new body, the Zero Emission Flight Delivery Group, to drive the development of new aircraft types and supporting infrastructure.