The US Federal Aviation Administration (FAA) has grounded Virgin Galactic as it completes an investigation into an incident involving the company's SpaceShipTwo during its July 11 flight.
In an emailed statement, the FAA says it was investigating a "mishap" involving SpaceShipTwo – also known as VSS Unity – on 11 July, when the vehicle was returning to Spaceport America in New Mexico.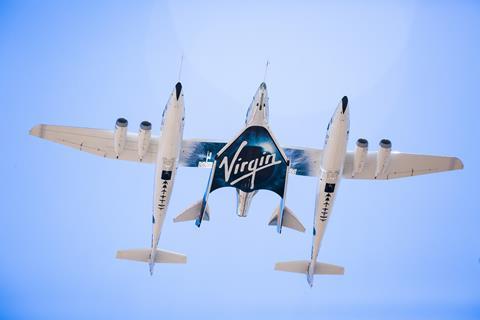 "SpaceShipTwo deviated from its Air Traffic Control clearance as it returned to Spaceport America," the FAA states.
The agency says the ban on SpaceShipTwo flights will last until it "approves the final mishap investigation report or determines the issues related to the mishap do not affect public safety".
"The FAA is responsible for protecting the public during commercial space transportation launch and reentry operations," it adds.
The 11 July flight was Virgin Galactic's first fully-crewed spaceflight, whose crew and passengers included company founder Richard Branson.
The grounding comes as the company announced its plans for a commercial research mission with the SpaceShipTwo, which it aims to conduct in late-September or early October. It is unclear at this point if the FAA's decision will affect the timeline.
The flight, which Virgin Galactic calls its "first commercial, human-tended research mission", will see it partner with the Italian air force.
"The goal of the mission is to evaluate and measure the effects of the transitional phase from gravity to microgravity on the human body. Other payloads on board will study the effect of the microgravity environment on a range of chemical and physical properties," Virgin Galactic states of the upcoming mission.
FlightGlobal has approached Virgin Galactic for comment.