A federal judge in Texas will arraign Boeing next week on criminal charges for two fatal crashes involving its 737 Max aircraft – though the company still holds immunity from criminal prosecution.
The US Department of Justice (DOJ) granted the Arlington, Virginia-headquartered airframer immunity from prosecution two years ago, as part of a $2.5 billion settlement after the crashes in 2018 and 2019 that killed a total of 346 people and grounded the type for 20 months.
Boeing has now been ordered to report to a Texas courtroom on 26 January to face federal felony charges, threatening that agreement.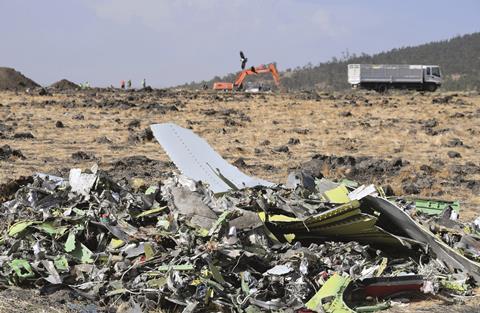 Paul Cassell, an attorney who has been handling the case on a pro bono basis for the victims, says, "The families appreciate the judge's ruling that Boeing will be treated like every other defendant in federal criminal cases and arraigned. Some family members are making plans to travel to Texas next week to address the company criminally responsible for their loved ones' deaths."
Cassell says Boeing still holds immunity from prosecution, but he has filed requests that its immunity be rescinded.
Boeing did not comment on the ruling.
According to the DOJ's 7 January 2021 complaint against the airframer, "The Boeing Company knowingly and willfully, and with the intent to defraud, conspired and agreed together with others to defraud the United States." The parties agreed to settle the "fraud conspiracy" related to the type's certification.
At the time, Boeing's actual criminal penalty amounted to $244 million, about 10% of the total $2.5 billion settlement. The balance included $500 million to be paid to relatives of crash victims and $1.77 billion to compensate airlines for delayed deliveries.
The DOJ based its case on actions of two Boeing employees, both flight technical pilots, who allegedly misled the Federal Aviation Administration's Aircraft Evaluation Group (AEG) about the Max's Maneuvering Characteristics Augmentation System (MCAS). The AEG establishes pilot training requirements.
Boeing added MCAS to the Max to counter the jet's tendency, due to its larger engines, to pitch nose-up during certain flight circumstances. MCAS forces the nose down.
The Max's troubles began with the crash of Lion Air flight 610 on 29 October 2018, killing 189, and was followed just less than five months later when Ethiopian Airlines flight 302 went down on 10 March 2019, causing the deaths of all 157 on board. Both jets were 737 Max 8s and both crashes were preceded by MCAS malfunctions from which the pilots were unable to recover.
Story corrected on 20 January to specify that Boeing still holds immunity from prosecution. A previous version cited a statement from a law firm incorrectly saying Boeing's immunity had been lifted. The law firm has since corrected its statement.