Vertical Aerospace has revealed plans to fly its VX4 prototype at next year's Farnborough air show as part of a wider public demonstration campaign that kicks off in 2024.
Unveiling the ambition in a quarterly letter to shareholders – released on 9 November – the electric vertical take-off and landing (eVTOL) developer said it intends to perform "multiple public flight demonstrations" of the piloted VX4 in 2024.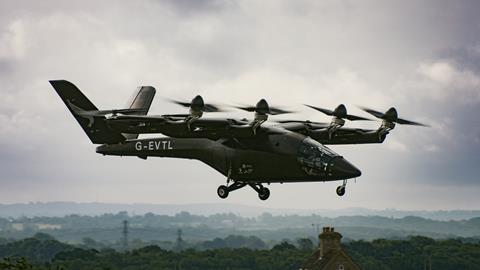 Such activities are "critical to build public acceptance of eVTOLs in the coming years", it says.
Subject to approval from the Civil Aviation Administration, exhibitions of the VX4's capabilities will include participation at the Farnborough event "as we intend to fly at the air show in July 2024".
Vertical is also involved in a UK government-funded project to demonstrate flights next year from London Heathrow airport, the country's largest hub.
"Flying the VX4 from one of the world's busiest airports to a site on the outskirts of London will help demonstrate end-to-end operations that will drive the development of a commercially viable AAM network in the UK," it says.
However, operating any demonstration flights in 2024 hinges on having an operational aircraft: Vertical's initial, and to date only, VX4 prototype was written off in an August crash at its Kemble airfield test site.
Vertical says the second prototype, which features significant improvements over its predecessor, is currently under construction at partner GKN Aerospace's Global Technology Centre in Bristol.
"We expect this new VX4 prototype to be flying early in 2024, and we are planning for a subsequent identical twin prototype to be built and operational in the second half of next year," it says.
"The fact that we are building a twin aircraft underscores our confidence that we have an optimised design and partner ecosystem to ramp up our testing capabilities as we progress towards certification."
Testing required to gain a CAA Permit to Fly the second prototype is already under way and will continue through the fourth quarter, Vertical adds.
In addition, the company submitted its final report into the August mishap on 31 October, it says, which " further validates our initial August findings"; the UK Air Accident Investigation Branch is expected to deliver its own report "in due course".
Vertical's initial report determined that a propeller blade released during uncrewed flight testing then caused the failure of an electric motor pylon, triggering the 9 August incident.
Certification and service entry for the VX4 is still targeted for 2026. Vertical had its certification basis accepted by the CAA in September, it notes.
At the end of September, Vertical had cash and cash equivalents totalling £74 million ($90.7 million) – sufficient to see it through to the end of the same period next year. The company will continue fund-raising activities in the remainder of 2023, it says.
It recorded a third-quarter net operating loss of £22m, a slight increase on the £19 million loss in the same period of 2022.

Dominic Perry is deputy editor of Flight International but also contributes extensively to flightglobal.com. Although specialising in the coverage of the helicopter industry, he has written on most topics in aerospace – be they commercial, defence or business aviation. In addition, there has been an increasing focus on the decarbonisation of the industry and zero-emission flight initiatives.
View full Profile