Vertical Aerospace has performed a short tethered first flight of its VX4, kicking off the test campaign for the electric vertical take-off and landing (eVTOL) aircraft.
Conducted inside a hangar at Kemble airfield in Gloucestershire southwest England on 24 September, the flight lasted a little over 10min, reaching a height of about 1m (3ft).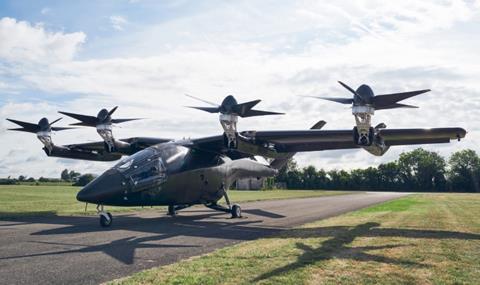 Vertical's chief test pilot Justin Paines was at the controls for the short flight, a break from some of the company's eVTOL rivals which have opted to carry out uncrewed maiden sorties.
The developer argues it had to demonstrate higher safety standards to gain regulatory permission for the crewed mission.
Vertical will now progressively increase the height of the VX4's tethered flights, reaching a maximum of 1.5m.
Under a test plan outlined by the manufacturer, once tethered flights are complete, the VX4 will move to low-speed untethered flights at a height of up to 15m, before transitioning from vertical to horizontal flight – with its rotors tilted forwards - and envelope expansion work, carried out at altitudes of 5,000-10,000ft.
Vertical says it is too early to know the schedule of subsequent tethered flights, nor when the VX4 might make its first untethered sortie. Certification is targeted for 2025.
Future test aircraft will follow, not least because the initial example is not equipped with the Rolls-Royce-supplied electric propulsion units that will power production aircraft.
Customers for the four-passenger VX4 include American Airlines, Gol, and Virgin Atlantic Airways; Vertical says it has received more than 1,400 conditional pre-orders for the aircraft.

Dominic Perry is deputy editor of Flight International but also contributes extensively to flightglobal.com. Although specialising in the coverage of the helicopter industry, he has written on most topics in aerospace – be they commercial, defence or business aviation. In addition, there has been an increasing focus on the decarbonisation of the industry and zero-emission flight initiatives.
View full Profile