Suppliers to Vertical Aerospace have begun building structures for the first prototype of the VA-X4, keeping the electric vertical take-off and landing (eVTOL) aircraft on track for a first flight by year-end.
"We are excited by the progress of all our components, but particularly the wing," chief engineer Tim Williams told the Royal Aeronautical Society's European Rotorcraft Forum on 7 September.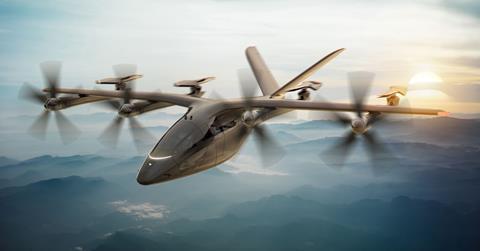 He says the 15m (49ft 2in)-span composite wing is currently in final assembly at Poole-based supplier Norco. Bristol-headquartered Vertical expects to receive the structure "next month", he says. Meanwhile, the 11m-long carbonfibre fuselage is in production at automotive specialist Prodrive.
"We are slowly assembling and gathering together all the pieces that we need to build this aircraft," Williams adds.
Vertical is aiming to secure UK Civil Aviation Authority (CAA) certification for the VA-X4 by the end of 2024, although Williams acknowledges this is an "extremely challenging" timeline.
Recent development activities have included windtunnel tests at Airbus's Filton site near Bristol and trials of a single rotor at Wroughton airfield near Swindon, to "understand the characteristics and performance" of the blades in terms of both thrust and noise.
Vertical's bespoke rig allows the rotor to be raised and lowered, enabling tests in and out of ground effect.
Williams says while the results are "incredibly promising" and were "in line with our expectations", they also flagged a "potential concern with a drop off in performance at high power". However, he adds: "I think we understand that."
The VA-X4 has eight sets of rotors: four at the front of the aircraft that tilt for forward flight and four at the rear which are used only for VTOL operations. It will be able to carry four passengers and one pilot on trips of around 86nm (160km).
Williams says the company is working to add an anti-icing capability to the aircraft, noting that it cannot call itself an "on demand" service "if it not available for so many days of the year".
Vertical has lined up Honeywell and Rolls-Royce to respectively provide the flight-controls and the majority of the 1MW powertrain. However, it intends to keep development of the batteries and rotors in house, seeing these as "key differentiators", says Williams.
In the meantime, additional suppliers are being lined up to support the company's ambition of taking output to around 3,000 aircraft per year. "Sorting out the supply chain to deliver these volumes will be a significant challenge but will offer massive cost benefits," he says.
To achieve that goal, the company has "gone through quite a significant transformation" in recent months, recruiting key staff from the high-end automotive sector who have "experience of scaling up to those sorts of volumes".
Although the VA-X4 will gain its initial certification from the CAA, Vertical is also working with Europe's regulator to ensure compliance with its SC-VTOL rules.
Vertical has so far accumulated tentative orders for up to 1,000 VA-X4s from American Airlines, Virgin Atlantic and lessor Avolon.