Vertical Aerospace is awaiting clearance from the UK's Civil Aviation Authority (CAA) to begin flight testing its VX4 prototype, with the vehicle having completed a series of ground tests at Cotswold airport.
Detailing progress on the electric vertical take-off and landing (eVTOL) aircraft in a letter to shareholders accompanying its first-half financial results, the developer says the VX4 has completed ground-based evaluations including vibration, lift load, and propeller thrust tests "to validate the build meets the design specification".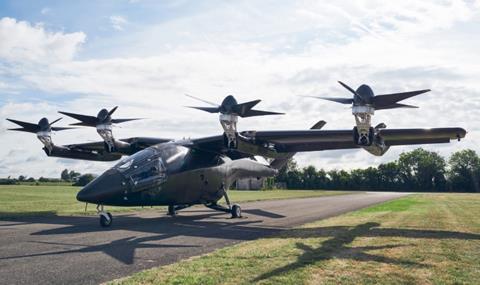 CAA staff have visited Vertical's Bristol design centre and the Cotswold airport flight-test facility to inspect engineering documentation, test data and the aircraft itself, ahead of issuing a permit to fly.
A piloted maiden sortie is targeted for "the coming weeks", the company says, which will consist of a tethered hover to assess stability, flight control systems and other parameters.
Further tethered hovers will follow, prior to the commencement of untethered low-speed flights at heights of up to 50ft and speeds of 40kt (74km/h).
Successful completion of this stage of testing will then allow envelope expansion, including transition to wing-borne flight at altitudes of 5,000-10,000ft and at speeds of up to 145kt.
Justifying its test strategy, Vertical says it sees little value in first evaluating subscale or remotely piloted aircraft as "we do not believe eVTOL engineering challenges scale linearly with aircraft size, so whilst subscale vehicles are far simpler to accomplish, they leave substantial gaps and risks when progressing to a certification vehicle," it says.
"Likewise, remote operation demands lower levels of aircraft safety and redundancy and can deviate in fundamental design and architecture."
Assembly of the VX4 prototype was completed during the first half at partner GKN Aerospace's Global Technology Centre in Bristol. Service entry for the four-passenger aircraft is scheduled for 2025.
Vertical saw operating losses in the first half rise to £39.4 million ($48.1 million), up from £22 million in the same period a year earlier, as research and development spending climbed to £19.3 million from £7.7 million. Pre-tax loss stood at £17 million against £22.5 million for the first six months of 2021.
To date, the firm has taken conditional orders for potentially over 1,400 VX4 aircraft. While the majority of these are tentative deals, American Airlines in July committed to make pre-delivery payments, and reserve delivery slots, for 50 of the 250 examples it has on order.