UK start-up Vertical Aerospace remains confident that it can gain certification for its VA-X4 electric vertical take-off and landing (eVTOL) aircraft by 2024, although first flight has has now slipped into 2022.
Meanwhile, the company's orberbook has now hit 1,350 units thanks to a recent trio of commitments.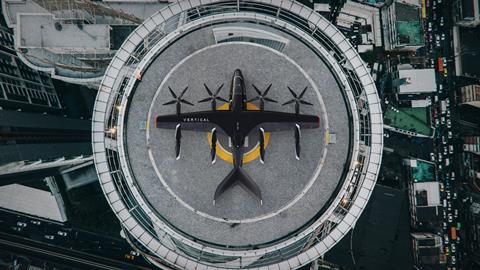 While the modest delay is not critical, the news that the maiden sortie has moved into 2022 comes just weeks after Tim Williams, Vertical's chief engineer, said the milestone was anticipated by year-end.
But Paul Harper, head of certification, told an investor presentation on 22 September that the first flight would now take place in early 2022. Initial sorties would be unmanned, he said, but would transition to crewed operations later that year.
Nonetheless, Harper says that he has "a lot of confidence in that [certification] timeframe" given that the programme has already been under way for three years.
Noting that the VA-X4 is "essentially a light aircraft with some specific complexities", Harper says the route to type approval is "well understood". Design organisation approval is also expected "in the near future", he says.
Initial certification will be from the UK Civil Aviation Authority (CAA), but in-line with the European Union Aviation Safety Agency's (EASA's) sector-specific SC-VTOL regulations.
Harper says there is "a huge amount of excitement within the CAA in supporting us.
"The CAA themselves have restructured their certification directly with specific support around eVTOL aircraft. And they have been wonderfully clear in signalling their intent with their detail as to what's expected of us."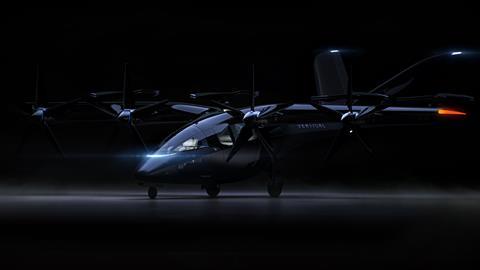 Both the CAA and EASA have witnessed crash and thermal runaway testing carried out on the VA-X4's battery pack and Solvay-provided casing, adds Michael Cervenka, Vertical president.
Additional conviction that Vertical can hold to its timeline is provided by programme partners like Rolls-Royce and Honeywell – respectively providing the propulsion system and flight controls - who have "been working on this for years as well", says Harper.
Vertical says the vectored thrust VA-X4, which features eight sets of rotors, the front four of which tilt for forward flight, will achieve an initial operating range of around 100 miles (87nm/160km) with four passengers and one pilot on board. However, the range figure will grow as battery energy densities improve.
Several different variants of the VA-X4 are proposed, says chief commercial officer Eduardo Dominguez Puerta, including those for cargo and medevac missions. In addition, modifications such as a floats are likely to be required for those operators seeking to perform overwater flights.
While production of the first prototype is in train, commercial activity is also ramping up. Recent agreements with Spanish airline group Iberojet, Marubeni in Japan and Bristow Group and have added another 350 conditional pre-orders and options to previous commitments for up to 1,000 aircraft from carriers American Airlines and Virgin Atlantic, plus lessor Avolon.
Should those deals all be firmed up, and deliveries begin as planned in 2024, then production would be accounted for through to the end of 2026.
Vertical plans to build 50 aircraft in its first year of serial production, ramping to 250 in 2025, 1,000 in 2026, reaching 2,000 per year by 2028. A single factory will have the capacity to build 1,500 VA-X4s annually.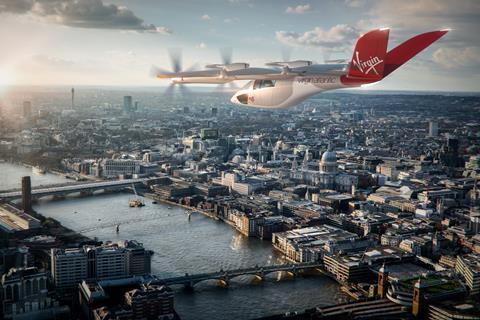 No location has so far been selected for the site of the assembly plants, although chief financial officer Vinny Casey says he hopes an announcement can be made shortly.
Although Vertical's design office is currently located in Bristol in southwest England, Casey says the manufacturer is "in discussions" with three other countries "about locating a production facility" in those nations.
"So, we've got lots of good opportunities on the table. I expect we're going to be locking down the location of our production facilities in the coming months… wherever that will be," he says.
Casey says Vertical needs only to sell 100 aircraft per year to "be cash-flow break-even", with the total investment recovered by the 300th aircraft. EBITDA of $1.4 billion is forecast by 2026, he says.
And while the sale of whole aircraft represents a big part of forecast revenue, Stephen Fitzpatrick, founder and chief executive of Vertical, foresees another likely source of income.
He says that the VA-X4's battery pack will need to be exchanged every three to six months, depending on useage.
"So this will represent a long-term relationship with the aircraft owner. This is not something that can be delegated or outsourced to a different organisation.
"The batteries will be a certified part of the aircraft and so the maintenance and the delivery of new battery systems throughout the vehicle lifetime will represent a really important revenue stream for us as an OEM."