Vertical Aerospace has pushed back the expected certification date of its VX4 electric vertical take-off and landing (eVTOL) aircraft by around one year to the end of 2026 following an internal review of the process.
Detailing the delay in a letter to shareholders accompanying the release of its first-quarter results on 3 May, the UK-based firm said its previous guidance for achieving certification in 2025 was "based on our best estimates at the time".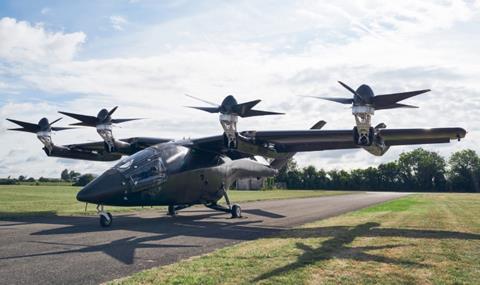 "Attempting to predict a date with certainty when it is several years away is challenging and achieving it depends on agreeing compliance methods for new technology with the authorities," the letter says.
Following talks with regulators globally and work with its supply chain, the developer has concluded the schedule will slip.
"We believe the industry as a whole will experience some timeline corrections and we are already seeing signs of peers acknowledging this.
"In light of our learnings and after completing our review, we are now targeting certification by the end of 2026," it says.
Despite the slip, Vertical maintains achieving certification in 2026 will still see it become "one of the first movers in the eVTOL market". It previously gained design organisation approval from the UK Civil Aviation Authority in March this year.
To "accelerate the flight-test programme", the company has begun construction of a second VX4 flight-test prototype "which will integrate most of our certification partners". That includes a composite fuselage already constructed by Leonardo, wiring and wing from GKN, Honeywell avionics and Vertical-developed battery packs – using cells from Molicel – and its second-generation rotors.
However, in keeping with its predecessor, the second test asset again appears to be absent the Rolls-Royce electric motors intended for production aircraft.
Vertical also offers no timeline for completion of the next prototype or its maiden sortie.
Meanwhile, the first aircraft "will be entering the second phase of its flight-test programme shortly", the company says, as it further expands its envelope to include "thrust-borne" flights.
Vertical posted a loss for the first quarter of £23 million ($28.9 million), a slight increase on the previous year's figure of £17.8 million, partly due to increased spending on the establishment of its new battery facility, the Vertical Energy Centre, and investment to support its design and certification capabilities.
As of 31 March, the company had cash and cash equivalents totalling £104 million, which, it says, "will be sufficient to achieve our goals throughout 2023 and into 2024."
However, "to support our ongoing capital requirements, fund our future operations and remain as a going concern, Vertical intends to undertake a fund-raise in 2023 to raise additional capital.
"We are progressing on this front and believe we will be in a position to raise funds during this year," it says.

Dominic Perry is deputy editor of Flight International but also contributes extensively to flightglobal.com. Although specialising in the coverage of the helicopter industry, he has written on most topics in aerospace – be they commercial, defence or business aviation. In addition, there has been an increasing focus on the decarbonisation of the industry and zero-emission flight initiatives.