Vertical Aerospace has suffered what appears to be a significant setback to its VX4 programme after the electric vertical take-off and landing (eVTOL) aircraft crashed during an unmanned test flight.
An image circulating on social media – initially flagged by journalist Charlotte Bailey – shows the VX4 prototype (G-EVTL) resting on its nose with one of its forward prop-rotors also apparently in contact with the ground.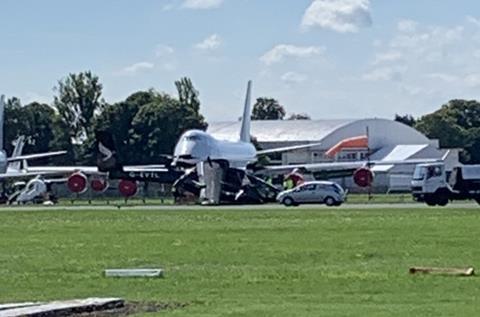 Due to the quality of the picture it is impossible to fully ascertain the extent of the damage but it does appear to be significant.
Vertical confims the incident, which it says "occurred during an uncrewed test of the aircraft's maneuverability during a motor failure test scenario, which is a key requirement to progress to crewed operations."
There were no injuries to personnel during the accident, it says, adding that it is "working closely with the relevant authorities." However, it provides no further detail on the damage sustained by the aircraft.
Vertical only recently began untethered test flights of the VX4 at Kemble airfield in the southwest of the UK, reaching an altitude of around 20ft.
In a letter to shareholders released on 3 August, Vertical said that during the flight testing the VX4 had "surpassed expectations" for flight stability and had drawn "significantly less power" than anticipated while hovering.
"Consequently, with the aircraft successfully completing its remote thrust-borne flight campaign, we will now progress to further enhanced mission profiles, including returning a pilot to the aircraft and expanding the flight conditions step-by-step," it said.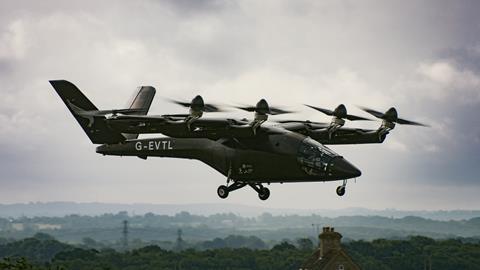 "We anticipate conducting full-scale crewed thrust-borne flights in the coming months. We believe that when we conduct these full-scale crewed flights, we will be the first eVTOL OEM of a piloted four-passenger electric aircraft to achieve this milestone."
A second prototype is currently being assembled by partner GKN Aerospace at its technology centre in Bristol, UK and was scheduled to begin flight tests later this year.
Vertical says the "upgraded" VX4 "will have greater capabilities" than the initial prototype "including improved range and higher performance, particularly in hover".
Service entry for the VX4 is targeted for 2026, following a delay announced earlier this year.
Vertical intends to raise additional capital this year to support the ongoing development activity, it says. Funding requirements for the 12 months beginning 1 August are £80 million ($101 million), it says, with the company holding £90 million in cash or cash equivalents at the end of June.
"This focused spend means we are funded into the second half of 2024, allowing us to deliver against our flight-test and certification goals, including building and bringing our second prototype VX4 online and conducting significant flight tests with both our full-scale aircraft," Vertical says.
Operating losses for the half-year stood at £36 million, against £39.5 million for the same period of 2022.

Dominic Perry is deputy editor of Flight International but also contributes extensively to flightglobal.com. Although specialising in the coverage of the helicopter industry, he has written on most topics in aerospace – be they commercial, defence or business aviation. In addition, there has been an increasing focus on the decarbonisation of the industry and zero-emission flight initiatives.
View full Profile