Vertical Aerospace is confident that it can move beyond tethered flights of its VX4 electric vertical take-off and landing (eVTOL) aircraft in the coming months, alongside nailing down certification requirements with the UK regulator.
Early-stage flight tests began in September 2022, and Vertical says it is "now progressing towards the next stages in our flight-test programme for the VX4 aircraft, which we expect will include piloted flights at increasing altitudes and speeds and demonstration of the transition from vertical lift to horizontal forward flight."
Vertical also anticipates conducting unmanned flights this year, the company discloses in its full-year 2022 financial report.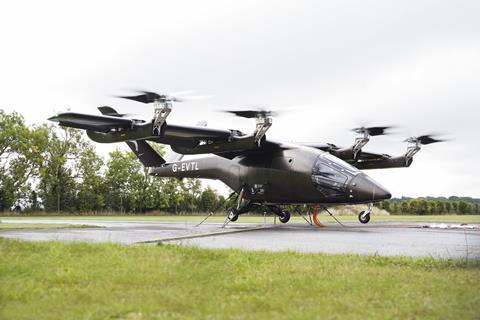 In addition, the Bristol-based company expects this year to agree on the certification basis for the VX4 with the UK's Civil Aviation Authority and receive its design organisation approval from the agency.
Vertical also continues to analyse possible locations for a manufacturing site: "We are beginning the search for specialist facilities for assembly, testing and production of our aircraft," it says. "Our manufacturing facility plans are still in process, and various aspects of the component procurement and manufacturing plans have not yet been determined."
Meanwhile, Vertical and American Airlines have until the end of the third quarter to finalise a commercial agreement covering the carrier's possible acquisition of the VX4.
American in 2021 revealed a "conditional pre-order" for up to 250 units of the VX4, and last year said it had committed to make a pre-delivery payment (PDP) related to the first 50 aircraft, delivery slots for which have been reserved.
Payment of that PDP will be triggered by the "the satisfaction of certain conditions" – likely related to the VX4's development programme – and also subject to the final terms of a "master purchase agreement" to be signed off by 31 October.
"Such [a] pre-delivery payment may be refundable in full to American Airlines under certain circumstances," the financial filing adds. American has also invested in Vertical, holding a little over 5% of its shares.
Vertical has this year already received a PDP from Japanese firm Marubeni for reservation of delivery slots for 25 of its tentative commitment for up to 200 aircraft.
Securing more PDPs from customers will provide a vital revenue stream for Vertical as it presses ahead with work on the VX4, including the construction of further prototypes and the manufacturing facilities.
But even if it brings in more PDPs, these will not be enough on their own to cover all of Vertical's requirements.
"We will need, and intend in 2023, to raise additional capital to fund our future operations and remain as a going concern," it discloses. Capital requirements are expected to "continue to be significant in the foreseeable future".
Vertical ended 2022 with cash and cash equivalents of £122.5 million ($150 million) but forecasts a funding requirement of around £90 million through 2023.
Although the firm's net loss shrank to £94 million in 2022, down from £245 million a year earlier, the 2021 figure was largely driven by expenses related to its US stock market listing. Research and development costs more than doubled in the period to £49 million.

Dominic Perry is deputy editor of Flight International but also contributes extensively to flightglobal.com. Although specialising in the coverage of the helicopter industry, he has written on most topics in aerospace – be they commercial, defence or business aviation. In addition, there has been an increasing focus on the decarbonisation of the industry and zero-emission flight initiatives.