Vertical Aerospace has opened a new aerospace battery research and prototype manufacturing facility as the UK firm presses ahead with development of its VX4 electric vertical take-off and landing (eVTOL) aircraft.
Located in Bristol, southwest England, the 1,390sq m (15,000sq ft) Vertical Energy Centre (VEC) is one of the few dedicated aerospace battery facilities in the UK.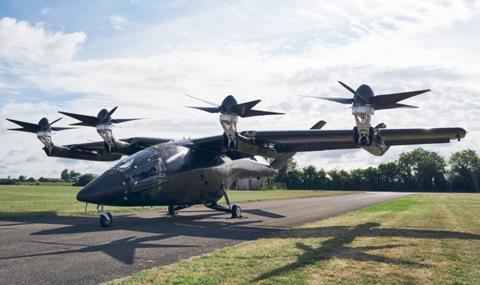 Last year, Vertical unveiled a partnership with Molicel to combine that company's cells with its battery pack design.
Vertical has already carried out "significant testing" at the VEC of those cells and its battery system, it says, including temperature, vibration, thermal durability and drop tests.
It aims for the VX4 to enter service with a 220Wh/kg battery system, enabling the eVTOL to carry out back-to-back missions; fast charging and minimised impact on pack cycle life are also promised.
Dr Limhi Somerville, head of Vertical's powertrain team says: "Aircraft require high-performing and safer batteries than anything on the market today. This facility and our core technology will unlock this, bringing the reality of electric flight even closer."
Vertical was recently awarded £14 million ($16.9 million) by the UK's Aerospace Technology Institute to further progress the development of its battery technology alongside academics from University College London.
Although having selected Rolls-Royce to supply the electric propulsion system for the VX4, Vertical has opted to keep the battery technology in-house. Testing of the first VX4 prototype has been taking place at Kemble airfield in Gloucestershire.

Dominic Perry is deputy editor of Flight International but also contributes extensively to flightglobal.com. Although specialising in the coverage of the helicopter industry, he has written on most topics in aerospace – be they commercial, defence or business aviation. In addition, there has been an increasing focus on the decarbonisation of the industry and zero-emission flight initiatives.
View full Profile