Vertical Aerospace has now completed 14 tethered test flights of its VX4 prototype following the aircraft's initial lift-off on 24 September – equating to a sortie once every three days.
Disclosing the total in a letter to shareholders in conjunction with the release of its third-quarter results, Vertical says extensive "taut tether propeller turning tests" were carried out with the electric vertical take-off and landing (eVTOL) aircraft prior to the maiden flight.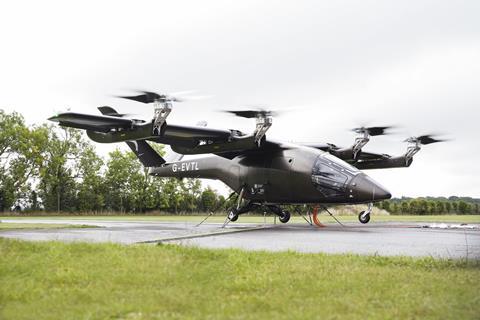 During this phase the VX4's eight propulsion units were progressively taken from 300rpm to 1,000rpm "with lift thrust confirmed at 800-850rpm".
Tests were enabled by the use of an "active front end" ground-power source, says Vertical, which allows the aircraft to "run in VTOL hover configuration for prolonged periods, greatly accelerating our pace of learning in this test phase." A continuous run time of 5.5h was achieved as part of this process, the manufacturer adds.
"It has allowed us to confirm structural behaviour throughout the propeller speed range needed for first flight and verified the operating characteristics of the electric propulsion units under representative flight loads," the Bristol, UK-based developer adds.
Test results have "shown strong correlation to expected operating characteristics", says Vertical, and are providing data to "support the next phase of our flight-test programme" – untethered low-speed flight. However, it has yet to disclose when the next test stage might commence.
Vertical says the VX4 has also been flown by two different pilots: chief test pilot Justin Paines – who was at the controls for the 24 September milestone – and colleague Simon Davies. Testing is taking place at Kemble airfield in Gloucestershire.
For the three months ended 30 September, operating losses were £18.6 million ($21.3 million), or £58.1 million across the first nine months. Total capital expenditure for 2022 will be around £80 million, it estimates.
Vertical hopes to achieve certification and service entry for the four-passenger VX4 in 2025. It claims over 1,400 pre-orders for the aircraft.

Dominic Perry is deputy editor of Flight International but also contributes extensively to flightglobal.com. Although specialising in the coverage of the helicopter industry, he has written on most topics in aerospace – be they commercial, defence or business aviation. In addition, there has been an increasing focus on the decarbonisation of the industry and zero-emission flight initiatives.