Vietjet is planning to launch its own MRO unit taking on third-party base maintenance work in around 2026, as it eyes opportunities from the region's significant fleet growth.
The airline's group commercial chief Michael Hickey says Vietjet has already leased a hangar "in the region" to perform C-checks on its own aircraft, and hopes to build its facility to handle widebody and narrowbody aircraft types.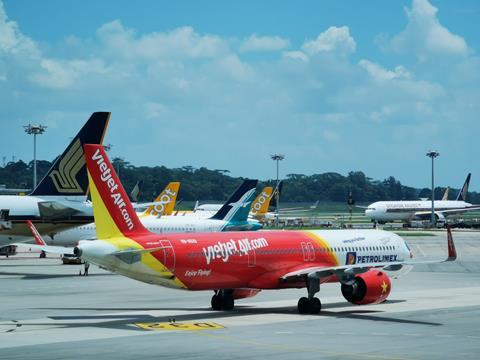 While Hickey did not disclose where the unit would be based, teh aim is for the MRO business to be operational around 2026, he said at the MRO Asia-Pacific event in Singapore on 26 September.
"We have already hired a hangar in the region where we've started our own C-checks, so that gives us a period of time… to build up the experience with our staff so that we can hit the ground running and be able to offer third-party services to other [operators]," says Hickey.
He points out that there was "enough space" for another MRO operator in the region, noting that fleet expansion plans – including Vietjet's – among Asian carriers "will push [MRO providers] beyond the point of [current] capacity".
Vietjet, which also has operations in Thailand, has a large aircraft orderbook: it has around 200 Boeing 737 Max aircraft on order, with the first of the new narrowbodies to enter service with Thai Vietjet Air in 2024.
Cirium fleets data indicates that Vietjet has 82 in-service aircraft, of which 75 are A320/A320neo-family jets. It also operates seven A330-300s. Thai Vietjet operates 18 A320-family narrowbodies.