Cash-strapped Virgin Orbit is laying off 85% of its workforce – about 675 employees – after struggling to operate in recent weeks and ultimately failing to "secure meaningful funding".
The Virgin Group company, which launches small satellites into space using a Boeing 747, disclosed the drastic personnel reduction in a 30 March filing with the US Securities and Exchange Commission. It expects the lay-offs to be complete by 3 April.
Media reports indicate the company will shut down, and it is unclear if operations will resume in the future.
"Those impacted are located in all areas of the company," Virgin Orbit says.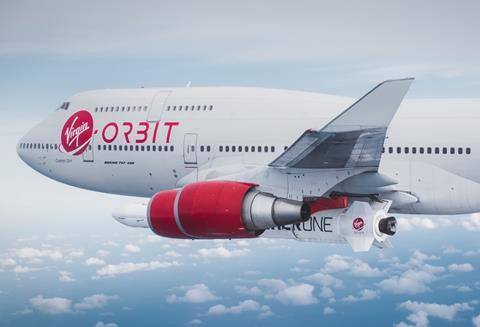 The company estimates that the lay-offs will cost about $15 million, including $8.8 million in severance payments and employee benefits costs, with the majority of the charges applying to the first quarter of 2023.
Virgin Orbit puts small satellites into orbit by using a modified 747-400 to carry its two-stage launch vehicle, LauncherOne, to high altitude. It recently began "incremental resumption" of operations after suspending all activities two weeks ago, as the cash-strapped company scrambled to find funding.
The company's most recent mission – its much-hyped first launch from Spaceport Cornwall in the UK – was unsuccessful as an anomaly was detected during the LauncherOne rocket's second stage.
The craft failed to reach orbit and fell to Earth along with the satellite it was carrying.