Volocopter chief executive Dirk Hoke is laser focused on seeing his company become the world's first true urban air mobility (UAM) provider in 2024.
If all goes to plan, this will happen by the Olympic Games in Paris next summer, featuring the company's iconic VoloCity electric vertical take-off and landing (eVTOL) aircraft.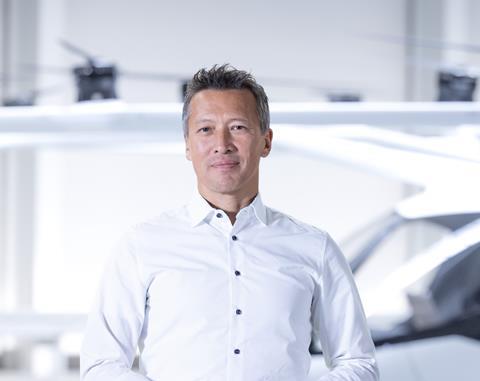 Speaking with FlightGlobal on a visit to Singapore, Hoke states that he recently visited EASA to ensure that plans for VoloCity's type certification are on track - the VoloCity eVTOL had its maiden flight in late 2021.
"We went through all the details of the certification plan as we have it right now, and EASA confirms that we're still on track," says Hoke.
Hoke's credentials are unique among UAM leaders, as he spent nearly six years as chief executive of Airbus Defence and Space, which ranks among the titans of Europe's defence sector. Before Airbus he held several leadership roles at German industrial champion Siemens.
For Hoke, joining Volocopter was a unique opportunity to be part of a frontier industry.
Asked about how running Volocopter differs from running Airbus Defence and Space, Hoke immediately notes the different sizes. Whereas in his previous role he led around 40,000 employees, at Volocopter his team numbers just 700. Still, there are management challenges, not least because of the company's rapid growth in the burgeoning UAM environment.
"We have a big mix of young, motivated and visionary people, but also very experienced – and still very motivated – people," he says.
Volocopter is also diverse with 60 nationalities represented. All these different backgrounds and experiences need to work together as one team. During his first five months on the job, Hoke says that he has worked on strategic areas such as staffing, processes, and how funds are deployed.
Definitive signs of progress are key. Hoke notes that Volocopter has already achieved two key milestones in aircraft development: a design organisation approval and a production organisation approval. The next big objective is type certification for VoloCity.
Headline grabbing order announcements are not a priority. Still, Hoke says there are indeed orders, and that demand actually far outpaces supply.
"Is it important to have orders?" he asks rhetorically. "Or to deliver to the market? My intention is to keep to the important milestones, and this is a type certificate and to go into commercial operation. What do you do with orders if you don't have a type certificate?"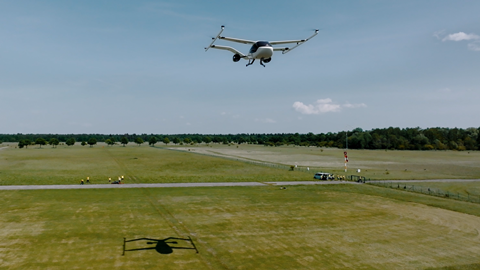 To this end, Volocopter is producing a trio of two-seat VoloCity platforms that will be ready in the coming months. From July these aircraft will commence a gruelling certification campaign. Initially the aircraft will fly with just a pilot, but a passenger will be added by the end of 2023.
With 18 rotors, VoloCity derives power from nine battery packs that weigh-in at 30kg each. These can be quickly swapped in an out. Hoke says that batteries powerful enough to power a four-seater UAM will not enter production until 2025, pending deployment in 2026.
Taking advantage of improved batteries, the year 2026 will see Volocopter's VoloRegion eVTOL enter service. Unlike the multirotor VoloCity, the five-seater VoloRegion –formerly branded VoloConnect – is essentially a light aircraft, with two large wings optimised for longer flights. It takes off and lands vertically with six rotors. A pair of ducted propulsion fans provide forward thrust.
VoloRegion is not designed to operate short hops in cities, but rather for longer flights, such as from an airport to a distant suburb. In addition to four passengers and a pilot, there will be space for hand luggage and suitcases.
Following a first flight in 2022, a 90%-scale prototype of VoloRegion is undergoing flight tests, including the critical transition from vertical to horizontal flight. The eventual production VoloRegion is likely to have a greater wingspan. The locations of the lifting motors will also shift around to improve resiliency against bird strikes.
Hoke says that the prototype is performing very well, and shows that the company's performance simulations are accurate.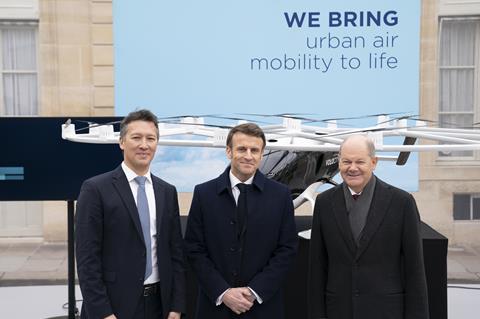 At the 2023 Paris Airshow, Hoke hopes to have more information about the VoloCity's service entry in 2024. In tandem with the VoloCity type certification campaign, Volocopter is pursuing an Air Operator Certificate with a fixed wing aircraft. This should allow for VoloCity commercial operations in 2024.
On a broader basis, Volocopter is working with partners around the world to launch UAM services in the coming years. Key partners for its Paris launch, for example, are airport operator Groupe ADP, public transport operator RATP Group, and Choose Paris Region, a government agency tasked with promoting the Paris area.
As for other global launches, Volocopter is focusing mainly on cities and countries that have issues with gridlock.
"We will not replace anything, but we will add one more option to the mobility concept," says Hoke.
To meet the requirement for VoloCity airframes, the company is on the verge of opening a new factory near its headquarters in Bruchsal, Germany. When completed, the factory will be able to complete 50 eVTOLs annually per shift, for a maximum yearly output of 150. Hoke refers to this as a "reference factory", and says a further factory would be required for mass production.
Looking to the future, Hoke says that it is essential for UAM to win society's trust before wide adoption takes place - noise, he feels, will not be an issue because extensive work has gone into ensuring VoloCity is far quieter than a helicopter. In the early days, UAM platforms will stick to specific corridors as people get used to them and understand that the technology is safe.

Greg Waldron is the Asia Managing Editor of FlightGlobal, responsible for the team's airline, aerospace, and defence coverage across the region. He has worked at the company since 2009. In the airline space, Waldron has conducted dozens of interviews with airline leaders in the Asia-Pacific. He also covers areas such as MRO and safety. On the defence beat, Waldron has written extensively about the rise of Chinese airpower, as well as broader airpower developments around the region, such as indigenous fighter programmes, and regional acquisitions of foreign equipment. In addition, Waldron writes about commercial helicopters in the region and business aviation. Waldron worked has a freelance journalist with his work appearing in several business publications.
View full Profile