German electric vertical take-off and landing (eVTOL) vehicle developer Volocopter's 2X prototype made its NBAA flying debut on Tuesday, continuing its charm offensive to convince the public of the appeal of advanced air mobility.
"We are here to use the opportunity to showcase our aircraft to the public, as this is something completely brand new and nobody has seen before," the company's chief risk and certification officer Oliver Reinhardt said on 17 October.
"It's part of building the public perception, and showing that this is a really good thing."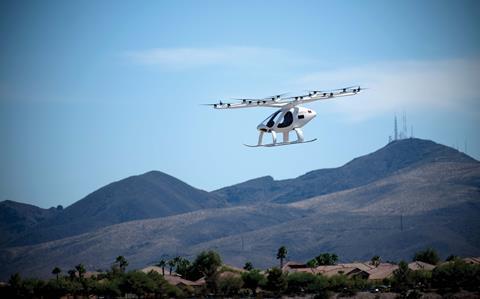 The multi-rotor aircraft lifted off from the ramp at Henderson Executive airport at about 12:05 local time, and traced a path over the northern end of the field's taxiways for about 6min. Most visitors at the static display barely heard a thing.
"It's absolutely silent, it flies smoothly and it's something convenient that really fits into every city's landscape," Reinhardt says.
The company expects its two-seat, piloted VoloCity air taxi to be type certificated in Europe early next year, ahead of a planned launch of regular commercial services at the Paris Olympic Games in July. That means the company is likely to be one of the first in the world to begin regular air taxi operations.
Volocopter plans five routes initially, but Reinhardt does not reveal the number of aircraft that will be operating those services.
Most advanced air mobility companies see the USA as the most lucrative market for the vehicles, and Volocopter will not take long to be set for prime time on this side of the Atlantic, too.
"We will be ready soon and have a clear pathway to certification here in the USA also," he says. "Right after our type certification in Europe, we expect to get a validation over here and be able to operate here."
"Here at NBAA we are looking for the possibilities, for the markets, and we clearly need partners in this country too," he adds.
Volocopter is scheduled to fly again at the static display in Henderson on Wednesday and Thursday at 10:00 local time.