Urban air mobility (UAM) developer Volocopter is to partner with CAE to set up a pilot training programme for electric vertical take-off and landing (eVTOL) operations.
The tentative agreement is designed to "develop the pilot workforce of the future", the partners say.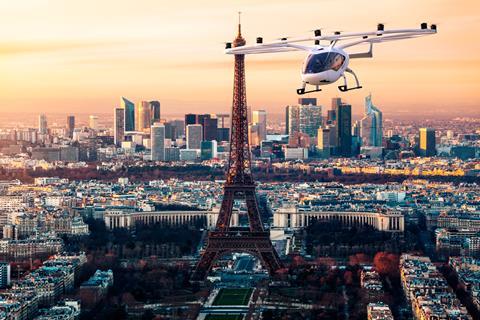 Volocopter expects its two-seat VoloCity vehicle to enter service in 2024 following certification from the European Union Aviation Safety Agency (EASA). It plans to launch operations in a number of cities globally over the next five years.
CAE will expand its existing training network, and intends to invest up to $40 million in order to meet Volocopter's projected pilot demand for the first years of operation.
As part of the agreement, Volocopter will purchase a simulator from CAE to be used in the certification of its pilot training programme.
"As we scale our UAM services in cities around the world, specific pilot training and qualification for our Volocopters will be an important element," says Florian Reuter, chief executive of Volocopter.
In a recent white paper on advanced air mobility, CAE forecast that the sector will create additional demand for pilots, requiring 60,000 flightcrew within the first decade of operation.
However, it is unclear whether this demand will be sustained as the eVTOL sector looks to autonomous flight systems in the future.
CAE's agreement with Volocopter mirrors a previous partnership struck between Lufthansa Aviation Training and eVTOL developer Lilium for its pilot training requirements