Hybrid electric aircraft developer VoltAero is to take its Cassio I concept on an 11-city tour of France next week after demonstrating the prototype's dual-source powertrain for the first time on 21 October.
At an event held at the company's Royan-Medis base in southwest France, sparsely attended because of Covid restrictions, but streamed to a live audience online, VoltAero flew the adapted Cessna 337 Skymaster with the hybrid-electric unit installed in the aft fuselage, driving a five-blade pusher propeller.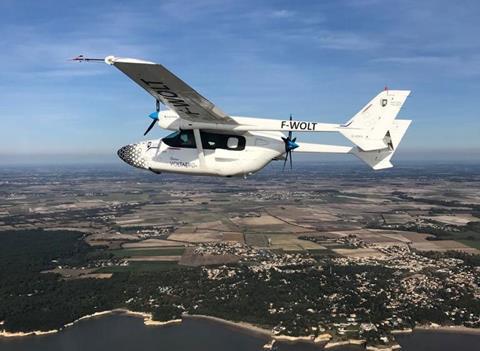 The powertrain, which will be the core of VoltAero's planned Cassio II trio of production aircraft, combines three 60kW electric motors, that will be deployed for take-off and landing to reduce noise, together with a 276kW internal combustion engine that serves as a "range-extender", battery recharger, and back-up.
The motors sit in what VoltAero calls a "barrel configuration", ahead of the Nissan combustion engine, with both attached to a common propeller shaft.
The same configuration will be sufficient to provide 600kW to power the 10-seat Cassio 600, the largest of the family VoltAero hopes to be producing by early 2023, says the French start-up.
The testbed aircraft, which made its maiden flight on 11 October, retains two wing-mounted Safran ENGINeUS 45 electric motors, which replace the nose-mounted engine in the original Skymaster. However, the production aircraft will be a single-pusher, with a high tail on a twin boom, and two canards.
Jean Botti, VoltAero's co-founder and chief executive and former chief technical officer with Airbus, says the five-day tour of France is intended to show "the capability of what electric aviation can do".
As well as the Cassio 600, VoltAero plans to offer the 480kW, six-seat Cassio 480, and the 330kW, four-seat Cassio 330, which will be the first to enter service in 2023. The six-seater will follow in 2024 and the largest sibling in 2025.
VoltAero plans to produce around 30 aircraft in the first year and 90 the following year, before reaching a "cruise production speed" of 150 units annually, says Botti.
The tour will depart from Vannes in Brittany and stop at Tours, Le Havre, Toussus-le-Noble near Paris, Troyes, Dijon, Annecy, Aix, Nimes and Toulouse, before finishing in Angouleme.