Hybrid-electric aircraft developer VoltAero has signed up Italian aerospace supplier TESI to manufacture the airframe for the first prototype of its Cassio 330 aircraft.
In addition, Salerno, southern Italy-based TESI has invested in VoltAero, contributing to the start-up's €32 million ($31.6 million) Series B funding round.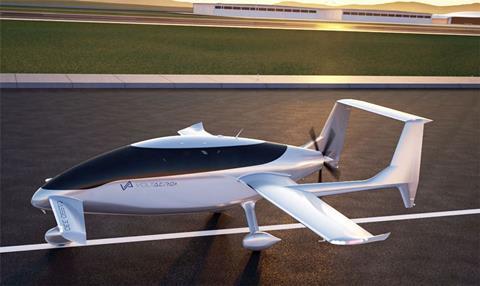 VoltAero says the capital raised will cover the costs of certification and the launch of serial production for the Cassio 330.
Jean Botti, VoltAero's founder and chief executive, confirms that the agreement covers solely fabrication of the initial prototype airframe, rather than those for serial aircraft.
"For us it is a way to test their [TESI's] capabilities," he adds, noting that the firm is already a supplier of metallic components to both Airbus and Boeing.
TESI is already manufacturing parts for the initial aircraft, he says, with the goal of completing assembly in April 2023. A first flight should follow in June or July that year.
For the maiden sortie, the Cassio 330 will be powered solely by a thermal engine in order to "validate the flight envelope", says Botti. This will subsequently be swapped out for a 330kW hybrid-electric powertrain.
Safran is to provide the electric motors and EPS the batteries, while the Japanese supplier of the internal combustion engine will be disclosed shortly.
Botti hopes to firm up VoltAero's supply chain by mid-2023, enabling production to begin by the end of 2024 following certification earlier that year.
While the current funding round will be sufficient to see the five-passenger Cassio 330 through to service entry, Botti says VoltAero's follow-on projects – the six seat Cassio 480 and 12-seat Cassio 600 – will be bankrolled by sales of the smallest model.
"They are going to be very dependent on the success of the Cassio 330," he says.
VoltAero has accumulated almost 200 pre-orders for the Cassio 330, worth around €480 million, and aims to begin converting these to firm commitments once the prototype is flying.
Customers include regional carriers across Asia, Europe and the USA, plus those in the medevac segment.
Botti sees the hybrid-electric design as ideal for the market, enabling greater range and flexibility than with battery-power alone.
The Cassio design incorporates a forward fixed canard and an aft-located wing with twin booms, supporting a high-set horizontal tail.
Batteries are used to power the electric motors in the aft fuselage-mounted propulsion system for the taxi, take-off, climb and landing phases, while the internal combustion engine serves as a range extender, recharging the batteries during cruise. It also provides a back-up in case of an electrical system failure.
VoltAero has been flying its 600kW propulsion system in its Cassio 1 prototype since 2020, and has logged 5,400nm (10,000km) across 135 flight hours.
"We have been impressed by VoltAero's highly intelligent approach with Cassio, applying its dual-source electric-hybrid propulsion concept for regional aviation that will be both sustainable and operationally safe," says Luigi Punzo, TESI chief executive.

Dominic Perry is deputy editor of Flight International but also contributes extensively to flightglobal.com. Although specialising in the coverage of the helicopter industry, he has written on most topics in aerospace – be they commercial, defence or business aviation. In addition, there has been an increasing focus on the decarbonisation of the industry and zero-emission flight initiatives.