Urban traffic congestion is already bad and will only get worse in future as cities swell: by 2050 around two-thirds of the world's population will live in cities, according to United Nations forecasts.
Aside from the time lost, fossil fuel-powered vehicles sat in a queue of traffic are an obvious source of emissions – both those experienced locally, such as particulate matter, and greenhouse gases.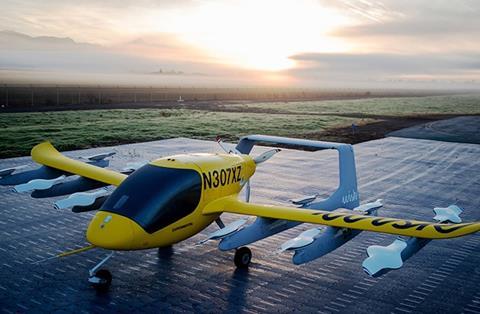 Read through the mission statements of several of the leading developers of electric vertical take-off and landing (eVTOL) aircraft and there is a sense that they are working on a silver bullet for congestion.
US-based Wisk boasts: "We believe in a world where less time getting there means more time being there.
"We're working toward a future where you'll be able to safely soar over traffic and get to where you're going, faster."
Over on the other side of the Atlantic, Germany's Volocopter offers a similar view: "We are mobility's new dimension. Skip traffic jams and detours. Opt for advanced, predictable mobility."
The public also believe that urban air mobility (UAM) services offer the possibility of a brighter future: on 19 May the European Union Aviation Safety Agency (EASA) released the results of a survey carried out on its behalf across six cities earlier this year. It showed that one of the expected benefits from the advent of eVTOL operations was "faster, cleaner and extended connectivity".
In fact, an average of 51% of respondents across those six cities felt that a reduction of traffic jams would be the second largest benefit of large-scale UAM services (the biggest benefit, cited by an average of 71% of people, was improved emergency response times).
As an illustration, the EASA study cites an air taxi journey from Paris Charles de Gaulle airport to the city centre which "could be two to four times faster compared to a car journey on a Thursday evening during rush hour". But it is unclear whether respondents see eVTOL aircraft as helping to cut congestion at a personal level – by allowing them to fly over it – or helping society through reducing car use significantly.
In addition, eVTOL aircraft produce no emissions during operation and, assuming they are held to the same safety standards as passenger airliners, will be substantially safer – 1,500 times as safe, says EASA – for both occupants and pedestrians, than road transport on a passenger-kilometre basis.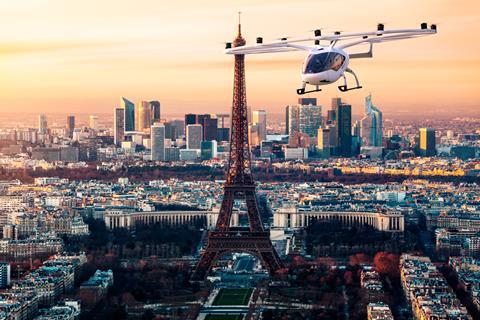 But for all their promises of a golden future, no-one should lose sight of the fact that eVTOL aircraft developers are businesses. Sure, a greener future is part of the mix, but as their investor presentations clearly state, they are in it for the money.
That is not a criticism of their capitalist imperatives. After all, Airbus and Boeing do what they do to make profits, not to further lofty goals around global mobility (to do so is to confuse cause and effect, no matter how they might dress it up).
But that profit motive could conflict with wider societal aims. Noting that public acceptance will be vital to UAM uptake, EASA lists areas which may require regulators to take "preventative actions" in order to secure this.
"Ensure that UAM fits with the notion of 'public interest' by making it affordable to all, and integrating it into the local (multimodal) mobility system/network accessible to all," it says.
EASA's findings are in line with those of previous analyses. Researchers from the Technical University Munich, University College London and Bauhaus Luftfahrt e.V in their 2020 paper Factors affecting the adoption and use of urban air mobility outlined that studies over the last decade have consistently shown that cost and time will be two significant factors in UAM uptake.
For instance, a NASA-commissioned report in 2019 detailed that while nearly 50% of those surveyed were "potentially comfortable" with UAM use cases, "cybersecurity, affordability and willingness to pay were perceived as barriers to the UAM viability".
And the results of a 2019 survey in Munich "indicated that travel time, travel cost, and safety might be critical for determining UAM adoption", it says.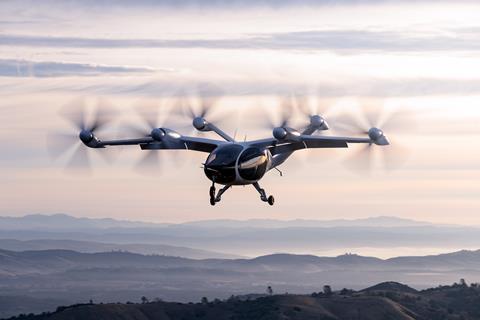 In their own study, the researchers from the three universities discovered that safety, cost and trip duration, in that order, were the top three factors impacting UAM uptake. Unsurprisingly, it found that lower fares – in line with those of taxis – would accelerate adoption.
However, the report adds: "If the system aims to attract a wider public, user requirements must be prioritised, notably pricing schemes must be defined, and regulated by the authorities, so that the service would not only be a niche market."
Ensuring that affordability and accessibility will be no mean feat. While information on trip pricing is hard to come by, not least that commercial operation of eVTOL aircraft is still several years away, several companies poised to merge into stock market-listed entities have provided a little detail.
Take Blade, an Uber-like technology company in which Airbus has invested. Blade does not own any aircraft itself (an "asset-light model" as it puts it) but buys aircraft time by the hour from operators, who provide the aircraft on what is essentially an ACMI basis. Blade, meanwhile, supplies the marketing, branding, booking systems and ground infrastructure.
While offering a number of services, Blade is arguably best known for its five-minute-long helicopter flights linking the New York airports with Manhattan, for which it charges a one-way fee of $195 per person.
Blade sees its clientele as "high-income travellers", according to a recent presentation, who are willing to pay a premium to arrive in the city potentially 2h faster than if they drove.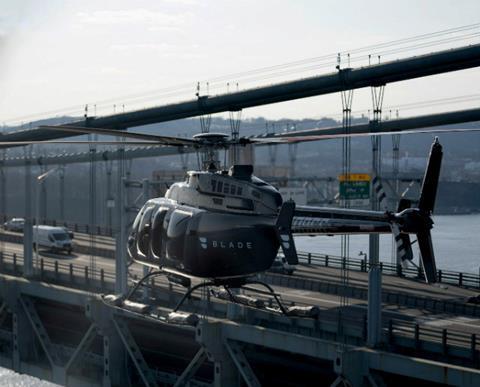 It is an enthusiastic proponent of UAM and has a commitment for up to 20 Beta Technologies Alia aircraft which carry five passengers – one fewer than a typical light helicopter, which is profitable once the third seat is filled. Blade sees the potential of eVTOL vehicles to "reduce pricing to expand [passenger] volumes and reduce costs". With the start of UAM operations, the fare for a JFK-Manhattan flight could fall to around $125, according to the presentation. But the "lower cost of flying" would also lead to "margin expansion", it notes.
In other words, while it would earn less revenue from each flight, lower operating costs would make each service more profitable, even allowing for one fewer seat on the aircraft.
Joby Aviation, meanwhile, in its financial predictions for 2026 – when it will have 963 aircraft operational – lists a per-mile seat cost of $3, which, it says for an individual, "is cheaper than Uber Black" – the ride-hailing company's premium service.
Under Joby's forecasts, by that year each aircraft will be making $2.2 million in annual revenue – a little over $6,000 per day – and $1 million in annual profit, based on an average trip length of 24 miles with a load factor of 2.3 passengers in its four-passenger aircraft.
Germany's Lilium, which sees itself as a regional rather than urban mobility provider, has also given some indication of the market it hopes to tap into.
"Although we believe that we will launch our service as a premium service, with prices comparable to a road taxi on a per-mile basis, over the long term we intend to decrease prices further to match the cost of private car ownership or high-speed rail, which would make our [business to consumer] services accessible to a larger part of the population," it states.
That emphasis on a premium service is reinforced by a recent agreement with business jet operator Luxaviation, which will help to "build out airline operations in Europe".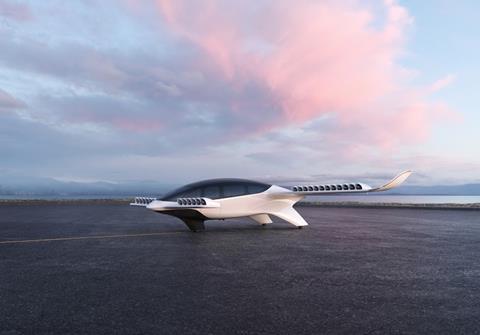 Luxaviation is many things, but mass-market it is not (highlights on its website include a section devoted to fine wines and a discussion on the luxuriousness of certain bath towels). Its tie-up with Lilium suggests a high-end service is envisaged, at least initially.
Lilium forecasts that once in operation, each Lilium Jet will be capable of earning revenue of $15,000 each day, assuming it can cover around 1,500 miles or 20-25 flights with an average occupancy of 4.5 people. Annual revenue per aircraft would be in the region of $5 million, with profit of $1.25 million – a predicted 25% margin.
More generally, as consultancy Roland Berger observes, low initial production volumes of all eVTOL aircraft will "at first keep the cost of UAM services high, with only the most affluent customers using them". Scale – of manufacturing and operations – is what will drive the cost down for the consumer, although to what level remains to be seen.
While eVTOL operations will clearly benefit those who can afford them, will they have any meaningful wider impact on congestion? Or to put it another way, how many cars will they actually take off the road, and will that be enough to make a difference?
According to the Organisation for Economic Co-operation and Development (OECD) in its ITF Transport Outlook 2021 publication, in 2015, more than one-third of passenger trips were made by private vehicles, 2.5 times the rate of public transport. By 2050, the global fleet of private cars will have reached 1.4 billion, it says.
Based on that growth, how many trips by eVTOL aircraft would be necessary to simply keep traffic at its current level, let alone reduce it? Nobody seems to be able to offer a clear answer.
While not specifically addressing UAM, the OECD argues that policy makers have an outsize role to play in shaping the future urban transport landscape. They must, it says, "nurture transport innovation and collaborate with providers of new urban mobility services to maximise benefits and minimise costs".
For those cities keen to foster the creation of UAM services, the question therefore appears to be one of regulation. Are air taxi operators to be subject to the same fare controls as operators of ground vehicles? And if so, what are they benchmarked against?
Or are they viewed more like airlines who are able to charge whatever the market supports? Do local authorities simply leave everything to market forces in the hope that competition will provide its own set of price controls? (History has shown that to be a generally ineffectual option.)
Ultimately if cities wish to harness the congestion-busting benefits touted by eVTOL manufacturers there will have to be some form of price regulation and integration with existing public transport infrastructure. Otherwise UAM vehicles will – like private helicopters and business jets – remain the preserve of a wealthy elite while the rest of the population stays stuck in traffic.