Gogo's planned $400 million divestment of its commercial aviation arm to Intelsat, a company in bankruptcy protection, will provide the US-based in-flight internet provider with much needed funds to focus on its business aviation activities, where it sees opportunities in fifth generation (5G) technologies.
The acquisition – cleared by a bankruptcy court despite Intelsat being in Chapter 11 since May – will, meanwhile, allow the satellite giant to integrate vertically by offering services to airlines directly. It also gives the Gogo commercial business guaranteed capacity in a competitive market for satellite provision.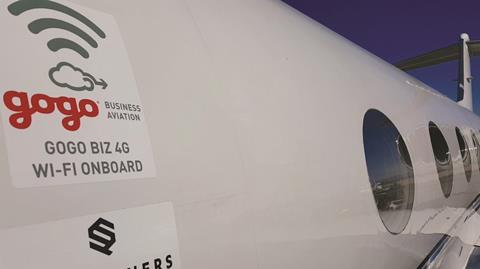 "We are growing beyond satellite connectivity to expand into consumer-optimised managed services," says Intelsat chief executive Stephen Spengler.
The transaction – announced on 1 September – is a rare piece of corporate activity for an in-flight entertainment and connectivity (IFEC) sector that, along with the rest of the aircraft and interiors and passenger experience market, has been hit hard by the sharp fall in air travel, orders and deliveries.
Gogo's commercial and business aviation operations are distinct businesses. Its commercial division – which numbers Air Canada, Delta Air Lines and Virgin Atlantic among its 21 airline customers and has an installed base of 3,000 aircraft – relies largely on satellite connectivity sourced from Intelsat and its competitors, linking with Gogo's 2Ku on-board antennae.
Its business aviation arm – rebranded to Gogo from Aircell in 2014 – uses mostly air-to-ground technology, infrastructure that the Chicago-based company itself owns. Three years ago, Gogo launched its latest connectivity system for business aviation, called Avance L5. The 4G air-to-ground service connects a ground network of 250 cellular towers with aircraft.
While commercial aviation is a slightly larger activity for Gogo, unlike business aviation it has struggled for profitability because of the high costs of equipping aircraft and leasing satellite capacity.
Intelsat, which hopes to complete the acquisition by early next year, will continue to use the Gogo name to market to airlines, but a rebrand is likely in the longer term.
Spengler is confident that, after the lull of the Covid-19 crisis, consumer demand for in-flight connectivity will resume a double-digit growth rate. He adds: "Our ability to execute this transaction in the midst of our financial restructuring speaks to the strength of our underlying business [and] our vision for the future."
Elsewhere in the IFEC sector, there is cautious optimism about recovery. Australia-based cabin connectivity specialist Burrana predicts that narrowbody aircraft – where most of its products and services feature – will return to service much faster than long-haul airliners.
This, says Burrana, will see demand shift from installed seat-back screens, which are heavier and have higher maintenance costs, to on-board wireless. "Widebody aircraft that rely heavily on seatback IFE will take longer to return to full service, maybe not until 2024, so our medium-term focus is on ways to provide highly efficient solutions for narrowbodies, particularly for in-seat power, overhead and wireless IFE," it says.
Satellite operator Imarsat carried out a poll of 500 airline professionals with the Airline Passenger Experience Association between April and June, in which three fifths of respondents said a recovery to 2019 levels would take 18 months to three years. However, 84% believed there would not be "long-term disruption to passenger experience investment".