The premise and promise of Vertical Aerospace are not unique: to deliver within the next few years a new eco-friendly mode of air transport that will revolutionise urban mobility.
To that end, Bristol, UK-based Vertical is developing its VA-X4 electric vertical take-off and landing (eVTOL) aircraft which is being prepared for service entry in 2024.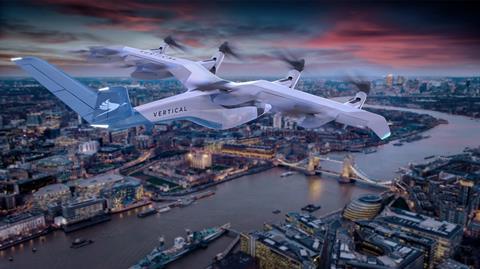 Featuring eight electrically powered rotors – the front four of which tilt – the winged VA-X4 can accommodate four passengers and a pilot, and is designed for journeys of up to 104nm (192km).
But Vertical is just one of hundreds of companies globally vying to do exactly the same thing.
What sets Vertical apart, argues chief executive Michael Cervenka, is its genesis. It was founded by energy entrepreneur Steve Fitzpatrick from the ashes of an ill-fated foray into Formula One (F1) with the Manor Racing team.
Looking to bring some of that motorsport engineering know-how into adjacent industries, Fitzpatrick settled on aerospace with the aim of disrupting sustainable aviation.
As Cervenka puts it, experience in key F1 technologies such as lightweight composites, advanced simulation and high-density powertrains are "useful ingredients for an electric aircraft developer".
"Having those F1 roots means there are probably a number of differences between us and the competition," he says.
Crucially, however, the "pace and agility" of F1 design and engineering has been married with "real deep aerospace experience and certification [expertise]".
That experience is reflected in Vertical's team, which has been drawn from the likes of Airbus, Bombardier and Rolls-Royce. In fact, Cervenka is an R-R alumni, having most recently held the post of head of future business propositions, reporting to chief technology officer (CTO) Paul Stein.
Cervenka points out that of the combined 1,200 years of experience at Vertical, around 800 of those are in aerospace engineering. "It has started with a team that knows how to do certification," he says.
Mind you, around 25 of its 120-strong team have an F1 background, including CTO Mike Gascoyne, a legend in motor racing circles.
In its five-year existence, Vertical has so far flown two scaled demonstrators, the VA-X1 and -X2, which were more traditional-looking – in so much as anything is traditional-looking in this new segment – wingless multi-rotor vehicles.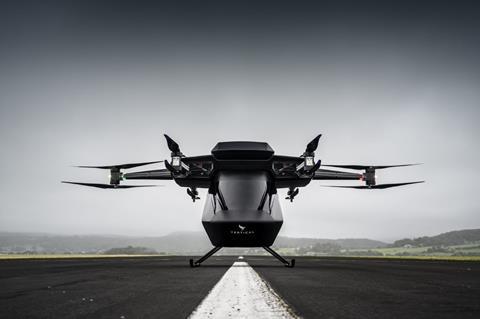 But there is a significant jump in the size and promised performance of the VA-X4 and those prototypes.
And of the five people the VA-X4 is expected to accommodate, one of those will be a pilot, based on a belief that "we don't think autonomy is viable, at least in this decade or well into the next".
Therefore to carry four passengers and a pilot over the distances envisaged and achieve the required economy – making the aircraft commercially viable to operate – a different architecture was required, says Cervenka, combining vertical lift with a "highly efficient wing".
With a wingspan of 15m (50ft), the VA-X4 will be sized to access around 80% of existing helipad infrastructure. Crucially, it will be a versatile machine, equally adaptable for short flights of around 15 miles (25km), "using only a small amount of battery charge", as it is for longer-range missions.
Battery charging time after a short hop should be around 10min, says Cervenka, which is "critical for vehicle economics".
"There's no use flying 20 miles and then having the vehicle sat on the ground for 40 minutes between flights," he says.
Swapping battery packs was also ruled out, he says, due to both practical considerations (the uncertainty of whether a landing site would have spares) and the unnecessary safety risk of having staff handle several hundred kilos of cells.
While the batteries will be developed in house, Vertical is sourcing other elements of the vehicle elsewhere: Rolls-Royce on 9 March became the latest programme partner, signing on to provide the VA-X4's electric propulsion system. The UK firm joins existing suppliers Honeywell (flight-controls) and Solvay (composite technology).
This is a "different philosophy" to its rivals, Cervenka says, some of whom are developing individual systems from scratch.
"Our strong view is that the best way to approach this [development] is to combine the pace and agility of a start-up with the expertise of suppliers." Essentially, Vertical has no desire to reinvent the wheel: why waste time and effort designing, say, flight controls or a powertrain, when there are companies out there for whom such things are their bread and butter?
Those supplier relationships "really enable us to leapfrog some of our competitors", he argues.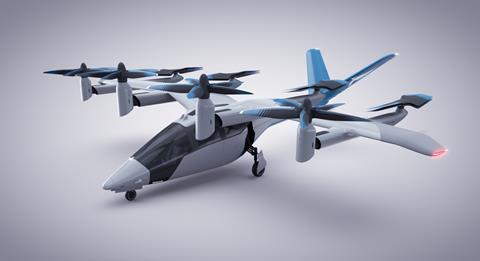 But with an aggressive timetable to stick to and the R-R agreement only recently minted, the planned first flight this year will be without the "highly integrated" powertrain of the final version.
"To build a prototype in this timeframe requires some compromises," says Cervenka. It will still be a vehicle that is "very close to certifiable" but without the "optimised performance" of the eventual propulsion system.
Meanwhile, talks are under way with "some major players" – airlines included – to secure launch orders. "We are in discussions. We are seeing a lot of interest," says Cervenka.
While not ruling out Vertical operating some aircraft itself, he points out that is not the company's area of expertise and that there would be a "huge cash impact" from creating such a service.
Profitability should come in the "2024-25 timeframe", says Cervenka, which will be in part dictated by the number of customer deposits it takes. At the moment, however, with development on going and no revenue coming in, Vertical is a loss-making business: in the year ended 31 December 2019 – the most recent period for which accounts are available – it made a pre-tax loss of £8.1 million ($11.2 million).
During that 12 months it continued to be bankrolled by parent company Imagination Industries (which itself registered a pre-tax loss of £114 million during 2019), including an interest-bearing loan of £11 million.
Cervenka says that owner Fitzpatrick's support has given Vertical "an incredible leg up" but that "it doesn't make sense to go all the way to certification funded by a private individual".
As such, an exploration of external funding opportunities is "progressing", although he thinks that Fitzpatrick will "remain majority shareholder for a long period of time".
Of course, when you are eyeing a market for possibly tens of thousands of aircraft, losses now pale into insignificance against the potential rewards if you can be first to market. Cervenka expects that Vertical will "have produced several thousand [VA-X4s] within the first few years" on the back of "quite a quick" ramp-up. "There is clearly an easy market demand for tens of thousands [of eVTOL aircraft] in relatively short order," he says.
The location of its main production site has still to be decided on, however. "Our strong view is that we would like it to be in the UK, at least the initial assembly line; it's a really great place to build a future electric aircraft company."
But that partly depends on what level of government support can be obtained, he adds. Initial certification will be sought from the UK's Civil Aviation Authority, to be followed by European approval.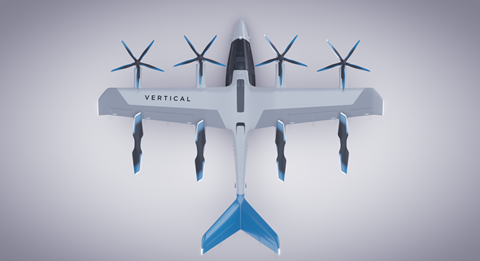 As previously noted, Vertical is operating in a crowded market, but Cervenka says there is already a "narrowing" of the field taking place "into the more credible players".
That said, given that there are probably half a dozen serious rivals who are likely to have vehicles on the market in the same timeframe, it is vital that Vertical hit its certification and service entry targets.
"We are as confident as anyone can be in this game," says Cervenka. "Compared with a year ago we have a really good basis for certification requirements [from the regulators]."
While he concedes "the programme is aggressive" – and, this being aerospace, there is always the potential for unforeseen hiccups along the way – he is confident in the design as "we have been looking at winged vehicles for quite a period of time."
Equally, any timeline slippage is likely to be modest: "We aren't talking about missing it by years if we do miss it. We have an opportunity to gain first-mover advantage: that's measured in years, not in months.
"A slight slip will not materially matter in terms of investor risk or market capture opportunity," he says.
Despite his having spent a goodly part of his career at Rolls-Royce, Cervenka has not been thrown by joining a fast-paced aerospace start-up into which the complicating factor of an F1 attitude has been added.
"When you bring different cultures and organisations together there are always challenges and tensions but we are really motivated to be successful," he says, all of which has led to a "collaborative" mindset taking root.
Besides, with his latter years at R-R spent looking at cutting-edge and disruptive technologies, Cervenka had great preparation for his current role.
"The difference is clearly that we are able to move very fast because we don't have the legacy," he says.
While he means that there an absence of bureaucracy or a set way of doing things, Vertical also lacks legacy in another sense: it has no heritage, history or reputation.
That "creates some challenges", he says, noting that half the battle is around "creating credibility".
Still, in such a fledgling segment, credibility is only likely to be achieved a few years down the road. In the meantime, F1-influenced Vertical is hoping that it can still secure pole position.