The Avic MA700 turboprop finds itself in an awkward situation after airframer Xian Aircraft showed up on the US government's Military End User list. With progress on the aircraft at a glacial pace, could the move seal the MA700's fate?
The MA700, built by Xian Aircraft, was touted to be a radically different model from its predecessors, such as the trouble-prone MA60. For one, it would be built using advanced manufacturing techniques and composite materials.
By 2014, a year after it formally launched the MA700 programme, Avic and Xian Aircraft began picking US suppliers.
Collins Aerospace, then known as Rockwell Collins, was to supply avionics, while Parker Aerospace announced in 2018 that it would be supplying fly-by-wire (FBW) flight control actuation systems, on top of providing hydraulic system and landing gear servo valves to the turboprop. Other US suppliers include Honeywell (APUs) and Eaton (fuel system components).
Now, the programme, long in developmental limbo, could face big headwinds.
Right before the end of 2020, the US government released its Military End User (MEU) list, which includes Xian Aircraft, but curiously excludes fellow Chinese airframer Comac.
As the US Department of Commerce states: "The MEU List informs exporters, re-exporters, and transferors that a license will be required to export, re-export, or transfer (in-country) designated items to listed entities.
"The U.S. Government has determined that these entities represent an unacceptable risk of use in or diversion to a 'military end use' or 'military end user' in China, Russia, or Venezuela."
It does not ban exports, but makes the process considerably harder.
Unlike Comac, however, Avic's Xian Aircraft unit is indisputably at the heart of Beijing's efforts to build a world-class military.
Its Y-20 stratetgic airlifter will allow Beijing to rapidly deploy expeditionery forces. The Y-20 is also being developed into an airborne early warning & control platform, and an air-to-air refuelling variant is in the works. Xian also produces the H-6, the pillar of Beijing's bomber fleet, and is developing the H-20 strategic bomber, a stealthy type that may be able to strike intercontinental targets.
The airframer ended the year with an update on the MA700 programme that states the turboprop had completed its pitch test, paving the way for the first prototype to embark on its test flight.
It is a tacit shift in timeline for Avic and Xian Aircraft, which at the start of 2020 was pushing for the aircraft to embark on its maiden sortie at the end of the year.
Still, the programme is clearly facing delays, a problem that is likely to be compounded by Xian Aircraft's inclusion in the MEU list. Neither Avic nor Xian Aircraft have publicly commented on the MEU list.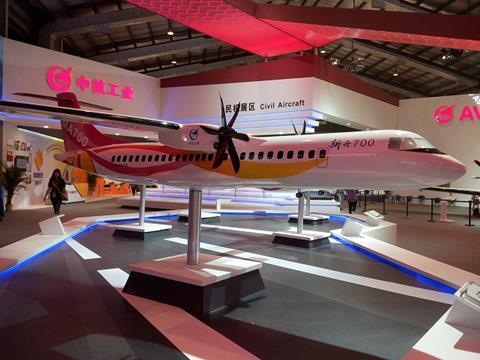 FlightGlobal reached out to a number of Western suppliers working on the MA700. Honeywell and Collins Aerospace declined to comment. Parker Aerospace, which is working on the MA700's FBW system, did not respond to requests for comment.
FlightGlobal understands, however, that at least one supplier has a team "actively evaluating" the situation.
Industry watchers say the move by the US government to sanction a number of Chinese aerospace companies underscores the dependency on Western technologies.
Teal Group aerospace analyst Richard Aboulafia notes that the MEU list — if it comes into force — could be "politically difficult and legally burdensome".
"The biggest truth revealed by this move is that after decades of trying and billions of dollars spent, China's aircraft development programmes have produced hollow tubes that are utterly useless without Western technology."
On China's avenues for recourse should the MEU list come into force, Aboulafia says its hands are tied.
"If the US really is cutting China's programmes off, there isn't a lot that China can do, except to either return to the negotiating table, while beginning a crash programme to develop indigenous substitutes for the brains and muscle needed to make these aircraft function. This will take over a decade," he says.
This article has been edited to add information from the US Department of Commerce.
Cirium fleets data indicates that there are 285 commitments for the MA700, with key customers including Joy Air and Okay Airways.