US air taxi developer Wisk Aero is assembling the production prototype of its sixth-generation aircraft in California and plans to fly the fully autonomous vehicle next year.
The company will likely assemble the "first several" of its electric vertical take-off and landing (eVTOL) vehicles at its facility in Mountain View, chief marketing officer Becky Tanner said at the NBAA show on 17 October.
Seeking to become the first autonomous, passenger-carrying commercial aircraft certificated by the Federal Aviation Administration (FAA), Wisk is "designing this aircraft to meet the highest levels of commercial aviation safety", she says. "When you're flying in urban areas, that's essential."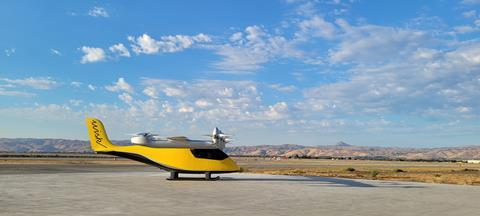 The aircraft will seat four passengers, with no pilot. Wisk envisions a vehicle supervisor who monitors and communicates with multiple aircraft from the ground.
Wisk's air taxi will operate primarily at altitudes of 2,500-4,000ft and fly short routes with flight times of less than 15min.
Wisk has completed some 1,700 flights with its fifth-generation aircraft, Cora, and earlier this month launched a flight-test programme at Long Beach airport in Southern California using the technology demonstrator.
"It's really about strengthening our team and our flight-test capabilities in those commercial aviation environments," Tanner says.
The programme is preparing Wisk's team for future operations and also the ins and outs of working with a commercial airport, she adds.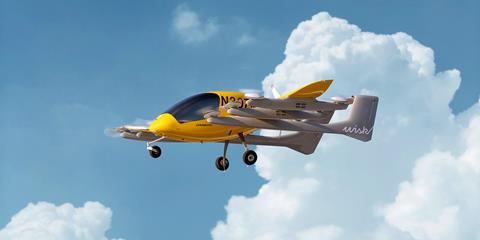 The 12-rotor aircraft is designed to take-off and land vertically, and transition to forward flight for cruise. It will take-off "literally at the push of a button" and follow a pre-programmed flightpath.
Notably, the air taxi will be unable to operate in icing conditions and will have "very specific" wind limits, Tanner says. "But this will be safe to fly in most conditions."
SCALING PRODUCTION
Wisk will soon announce construction plans for its full-scale production facility where it will build its sixth-generation aircraft "in the tens of hundreds", Tanner says.
Following the path of fellow Bay Area air taxi start-ups Joby Aviation and Archer Aviation – which are building large-scale manufacturing facilities in Ohio and Georgia, respectively – Wisk's facility will be constructed somewhere in the USA outside of California.
"The cost of hiring people in California is expensive, compared to other states," Tanner says. "And a lot of other states are really [offering] incentives that make it interesting for companies like ours.
"Of course, California is very technically strong from an engineering perspective, and a lot of software engineers are needed for an autonomous aircraft, so we'll continue to have our [headquarters] in the San Francisco Bay Area," she adds.
Wisk is engaged in a type certification programme with the FAA and is "making great progress" on its certification basis, Tanner says. She declines to provide a specific timeline for certification but adds that the Boeing-backed start-up is "on track to begin operations within this decade".
During the Paris air show in June, chief executive Brian Yutko acknowledged that the 2028 Summer Olympics in Los Angeles were "very interesting" as a potential showcase for the USA's eVTOL technology. His comments suggest that Wisk's aircraft could enter commercial service within five years.