Boeing-backed electric air taxi developer Wisk will in the first half of this year begin a second phase of airspace integration trials in New Zealand as it also works towards the final design of a certifiable autonomous passenger vehicle.
Silicon Valley-headquartered Wisk – a joint venture between majority shareholder Boeing and Kittyhawk – has since 2020 been collaborating with the New Zealand civil aviation regulator to iron out barriers to service entry for advanced air mobility (AAM) aircraft.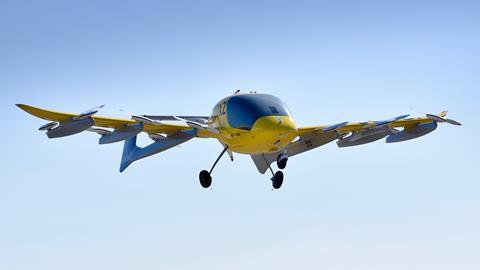 The first phase of that trial was conducted in Queensland, Australia in November 2021 and was designed to collect and analyse data to support the "safe integration" of AAM vehicles into the airspace system, says Wisk.
"This involved undertaking a programme of flight testing and data analysis that supports Beyond Visual Line of Sight (BVLOS) [operations]."
Wisk is currently analysing the data generated by those flights "which will further inform the structure and scope of the next phase", it says.
This will feature further BVLOS flight tests, and will "include looking at the interactions with air traffic control in a simulated controlled airspace environment."
Those trials will be carried out in New Zealand during the first half of 2022, Wisk says.
Meanwhile, work continues to finalise the design of Wisk's battery-powered aircraft, details of which, including its crucial range and payload figures, will be disclosed in the second half of the year.
Recent test flights have used its Cora demonstrator – a fixed-wing aircraft which uses 12 independent fans for vertical lift coupled with a single pusher propeller at the rear of the fuselage for power in the cruise. Range is just 25 miles (40km), but Gary Gysin, Wisk chief executive, says the company's eventual operational "sweet-spot" will be flights between 25-65 miles.
While Wisk's design is likely to resemble those of its rivals in the space, a crucial difference will be in the cockpit as the aircraft will fly without a pilot on board.
An autonomous aircraft is required to "get the operating cost down" and maintain fares at a level that all potential customers can afford, says Gysin. Wisk aims to offer customers a price of $2 per mile, or slightly less, when the company is operating at scale.
However, with the added regulatory complexity, that means Wisk will not be first to market.
"We may not be the first fly in this space, but eventually everyone will have to go to self-flying because that's where it makes [commercial] sense," he says.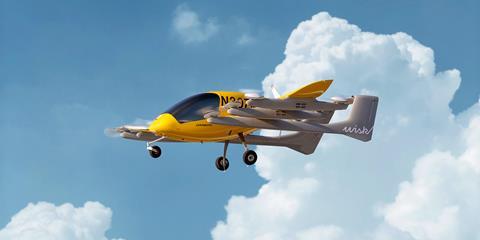 Gysin says dialogue with the US Federal Aviation Administration (FAA) over autonomous operations has been ongoing for "several years"; the regulator, he says, has been "fantastic to work with" and its feedback "has informed our design".
"Contrary to perception, the FAA knows this [autonomous flight] is going to happen and it wants to work with leading players who are going down this path like ourselves."
Wisk has yet to reveal when it hopes its vehicle will enter service, noting that this will hinge on gaining regulatory approval.
Brian Yutko, Boeing's vice-president and chief engineer for sustainability and future mobility, adds: "When will it fly? When it''s safe. When can customers get in it? When it's safe."
Aside from its investment in the company – another $450 million was pledged on 24 January – Boeing is bringing its certification and engineering expertise to the programme.
Although the aircraft will fly autonomously, a safety pilot will monitor operation via a ground control station and will be able to intervene if required.
"We have not yet disclosed our vision for the number of aircraft each supervisor will monitor," says Wisk.
In contrast to several of its contemporaries, Wisk will fly the aircraft itself rather than simply manufacturing and selling the vehicles to operators.
"No-one will know our aircraft as well as we do, so acting as operator will allow us to ensure that the aircraft and services are operated with the highest level of safety.
"Additionally, this provides us with the opportunity to incorporate direct customer feedback into the refinement of operations and services. In time though, we may consider partnering for operations," it says.
Gysin forecasts that eight years after service entry Wisk will have "one of the largest fleets" of AAM vehicles, making 14 million flights and carrying 40 million people annually.
It intends to launch services in 20 cities initially, both in its home country and elsewhere.