ZeroAvia has completed the initial phase of flight tests for its prototype ZA600 hydrogen fuel cell powertrain aboard a modified Dornier 228 twin-turboprop.
In all, 10 sorties were flown with the Do 228, with the final mission taking place last week from Kemble airfield in southwest England, the advanced propulsion developer said on 19 July; flight tracking data suggests it took place on 13 July.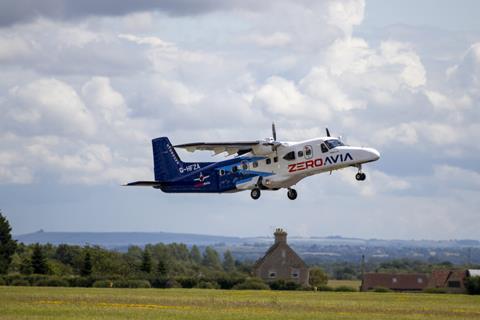 That flight included a cruise test, which the company says will allow it to "establish projections for future ranges using the system, thus teeing up the first cross-country flights as the next stage of testing and demonstration." The milestone also "paves the way for certification work", it adds.
First flight of the modified Do 228 (G-HFZA) – which has had its port-side Honeywell TPE331 turboprop engine replaced with the ZA600 powertrain – took place in January.
Since then, the test campaign has seen the aircraft fly at 5,000 feet, perform an endurance test lasting 23min, and reach the maximum allowable speed under the Permit to Fly issued by the UK regulator.
ZeroAvia says that during the trials, the fuel cells and electric propulsion system "performed at or above expectations" and the aircraft's pilots were "able to fly with thrust generated only from the experimental clean propulsion system in certain tests", it adds.
The Do 228 conversion and flight-test effort has been part-funded by the UK government via the Aerospace Technology Institute's HyFlyer II programme.
ZeroAvia has not detailed when it hopes the next phase of testing to start. It is targeting UK certification of the ZA600 powertrain in 2025.

Dominic Perry is deputy editor of Flight International but also contributes extensively to flightglobal.com. Although specialising in the coverage of the helicopter industry, he has written on most topics in aerospace – be they commercial, defence or business aviation. In addition, there has been an increasing focus on the decarbonisation of the industry and zero-emission flight initiatives.
View full Profile