ZeroAvia has successfully completed the first flight of a Dornier 228 converted to run partly on hydrogen fuel cells, with the aircraft conducting a 10min sortie from Kemble airfield in southwest England.
Disclosing the milestone, ZeroAvia said its 600kW ZA600 powertrain "performed as expected".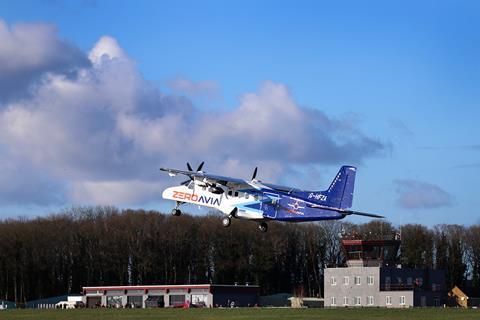 ZeroAvia has replaced the Do 228's left-hand Honeywell TPE331 turboprop engine with an electric motor, while the fuel cells, gaseous hydrogen storage and batteries for the testbed are housed within the fuselage. In a commercial configuration, these, save for the batteries, would be on the aircraft's exterior.
It says the battery packs – which provided 50% of the electric power during the flight – are required to supply peak power support during take-off, plus additional redundancy for safe testing.
ZeroAvia says the testing "places the company on a direct path to a certifiable configuration" which will be "finalised and submitted for certification in 2023", enabling commercial service from 2025.
As yet, the launch platform has not been disclosed. Chief executive Val Miftakhov says it will be an aircraft in the 10- to 20-seat class but gives no further detail.
"We already have an airframe partner that we are working with quite closely on that aircraft adaption of the engine and we'll announce it here shortly on the certification path," he says.
ZeroAvia in 2022 signed an agreement with Textron Aviation covering the development of a hydrogen-electric powertrain for the Cessna Grand Caravan.
Miftakhov sees between 10 to 20 flights in the test campaign "including longer and longer duration flights" and those operating solely on hydrogen power.
"The results of the test campaign will feed into the final iteration of the design of the engine that we will then be submitting for certification towards the end of the year," he adds.
ZeroAvia intends to seek a separate certification for the powertrain, plus supplemental type certifications on an airframe-by-airframe basis.
The largest ZeroAvia propulsion system tested to date, development of the ZA600 has been part funded by the UK government through the Aerospace Technology Institute's HyFlyer II programme.

Dominic Perry is deputy editor of Flight International but also contributes extensively to flightglobal.com. Although specialising in the coverage of the helicopter industry, he has written on most topics in aerospace – be they commercial, defence or business aviation. In addition, there has been an increasing focus on the decarbonisation of the industry and zero-emission flight initiatives.
View full Profile