Advanced powertrain developer ZeroAvia has drawn up a shortlist of potential manufacturing sites and will make a decision in the coming months as it prepares for a sharp production ramp-up to meet early delivery targets.
Speaking to journalists on 19 January following the first flight of its modified Dornier Do 228, chief executive Val Miftakhov said selection of the location for its assembly facility was a priority.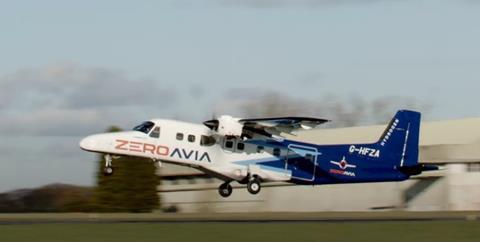 "As you can imagine with 600, 700 engines on order starting from 2025, the manufacturing capacity needs to be built out over this year and next year," he says. Trial runs will start in 2024 of "small series production", Miftakhov says.
"We have already invested a lot of time in selecting the sites. There is a shortlist for sites and we'll be making a decision in the following months," he adds. Development work has been conducted at its engineering facility at Kemble airport in Gloucestershire.
ZeroAvia has taken in around 1,500 total pre-orders for its family of powertrains, representing around five to six years' production. Around half are for the 600kW ZA600 system demonstrated on the 19 January flight.
Miftakhov says it is working with its customer base "to place them on a timeline of deliveries".
"We will announce the launch operator shortly at the same time we announce the launch airframe," he adds.
Miftakhov is confident that now it has performed the maiden sortie with the Do 228 that additional funding from both current and new investors can be secured to commercialise the powertrain.
ZeroAvia will also during 2023 begin to take pre-delivery payments from customers to secure slots, he adds.
Although the immediate focus is on the ZA600 system, which is suitable for aircraft in the nine- to 19-passenger range, development activities on powertrains for larger applications is also progressing.
Those intended for large passenger turboprops, carrying 70-80 passengers, will require cryogenic liquid hydrogen rather than the gaseous hydrogen used on the Do 228.
"The propulsion system tests are already ongoing for that at the component level and fully integrated tests are upcoming in the following weeks," adds Miftakhov.
ZeroAvia hopes to secure certification for the ZA600 in 2025, with the UK Civil Aviation Authority the lead regulator. An application for design organisation approval is likely to be submitted in the "next quarter", says Gabriele Teofili, head of aircraft integration and testing at ZeroAvia, with production organisation approval to follow.

Dominic Perry is deputy editor of Flight International but also contributes extensively to flightglobal.com. Although specialising in the coverage of the helicopter industry, he has written on most topics in aerospace – be they commercial, defence or business aviation. In addition, there has been an increasing focus on the decarbonisation of the industry and zero-emission flight initiatives.
View full Profile