US start-up ZeroAvia will later this year perform the first flights of a Dornier 228 modified to use the company's 600kW hydrogen fuel cell powertrain in place of one of its two turboprop engines.
Conducted under the UK government-backed HyFlyer II programme, the "hybrid" flights will be a stepping stone to the replacement of both Honeywell TPE331 powerplants with the full fuel cell system, says Sergey Kiselev, vice-president, Europe at ZeroAvia.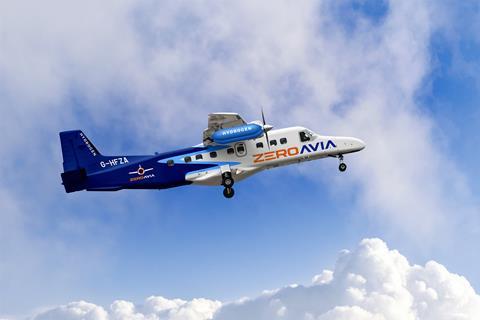 In the initial configuration, the hydrogen fuel and certain other equipment will be stored within the fuselage, Kiselev told a 24 August webinar into alternative fuels hosted by the UK's Fly Zero initiative and ADS trade body.
However, for the final-configuration aircraft, which will take flight in 2022, all components, plus the hydrogen fuel tanks, will be carried under the wing.
Kiselev says the initial Do 228 "will emerge from the paintshop in the coming weeks". ZeroAvia is acquiring a pair of the Dornier turboprops – one from AMC Aviation in the USA and the other from Guernsey-based carrier Aurigny Air Services, the latter currently registered as G-SAYE.
According to the Civil Aviation Authority, ZeroAvia's UK arm does not currently have any Do 228s registered to it. However, the Aurigny aircraft recently completed a 1h test flight after a long period dormant, according to aircraft tracking data.
ZeroAvia has been producing its own hydrogen gas using renewable electricity and has been able to scale up its capabilities since moving from Cranfield airport to a new site at Cotswold airport near Kemble earlier this year.
Kiselev says the "significantly larger" set up at Kemble is allowing it to produce more hydrogen on site. The Do 228 will accommodate around 100kg (220lb) of the gas, giving it a range of about 300nm (555km), he says.
ZeroAvia's plans call for its ZA600 powertrain for a 19-seater with 500nm range to be commercially available by 2024.
As part of the earlier HyFlyer I programme, ZeroAvia carried out test flights using a modified Piper PA-42 fitted with a 250kW hydrogen powertrain. That aircraft (G-HYZA) was written off in a crash in May this year.
In addition, Kiselev admits that the aircraft was equipped with both batteries and hydrogen fuel cells.
"Our first prototype actually used both fuel cells and batteries," he says. "We used [batteries] for the take-off and then during the cruise switched the battery off." Range was dictated by the hydrogen fuel cells, he adds.
However, ZeroAvia will not adopt this architecture for the 19-seater, he stresses. Although such a system "provides an extra oomph during take-off" it is "heavy and eats up quite a bit of payload".
"It will be quite a bit harder to go through the certification process with two types of energy storage on board for the main propulsion," Kiselev adds.
While ZeroAvia has so far focused on gaseous hydrogen for its system, it is also investigating the potential of producing liquid hydrogen at its facility, he says.